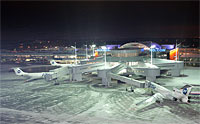 Vnukovo International Airport is a dual runway international airport and one of three major airports serving Moscow. It is the highest located airfield among Moscow's airports, giving it an advantage while operating in cold weather and under limited visibility conditions

For private jet charter or helicopter flights from Moscow Vnukovo Airport call PrivateFly on +44 1747 642777 (24 hours).
History : Watch approach video : Location : Flight Prices : Opening Hours
Moscow Vnukovo Airport History
Vnukovo was built in order to expand airport capacity for Moscow. This was due to the Khodynka Aerodrome being operating at full capacity.

Construction started in 1937 and the airport opened in 1941 during the Second World War. It was used as an airbase for the military and didn't host its first commercial flight until 20th April 1956.

Its second passenger terminal 'Terminal B' opened in 2004 handling international passengers only.
Landing at Moscow Vnukovo Airport
Moscow Vnukovo Airport Location
The airport is located 30km south-west of the city centre of Moscow, it takes approximately 28 minutes to travel there by car.


View Larger Map
Moscow Vnukovo Airport Facts
Airport Codes: VKO
Elevation: 686 feet
Airport Codes: IATA: VKO – ICAO: UUWW
Private Jet Charter Prices - Moscow Vnukovo Airport
Find private flight prices online for private jet charter to or from Moscow Vnukovo Airport with our private jet cost calculator.
For a personalised quote or further information please contact us or call +44 1747 642777 (24 hours).
Opening Hours - Moscow Vnukovo Airport
24 hours all year round.
For private jet charter from Moscow Vnukovo Airport call PrivateFly on +44 (0) 1747 642 777 (24 hours).
moscow vnukovo Airport Runway length
Moscow Vnukovo Airport in Moscow, Russian Federation has a runway length of 10039 feet and is suitable for
Small props, Small Jets, Medium Jets, Long Range Jets, Regional Airliners and Large Airliners.