Miami by Private Jet
One of the major cities in the United States for finance, culture, entertainment and more, Miami is a great destination for many private jet passengers.
The Miami area offers a wide choice of possible airports for private aviation, including:
Opa-Locka Executive Airport
Miami International Airport
Fort Lauderdale-Hollywood International Airport
To review all of the Miami private jet airports available, contact our 24/7 Flight Team on (866) 726-1222 or contact us here.
HOW MUCH DOES IT COST TO FLY BY PRIVATE JET TO MIAMI?
Pricing is subject to the aircraft type, routing and availability. Here are some example market prices for some of the most popular private jet routes to Los Angeles:
New York City to Miami by private jet
NYC – Miami – NYC from $17,500 (3 night return)
Aircraft: Learjet 31 (7 seats)
Time: 2 hours 30 minutes
Chicago to Miami by private jet
Chicago – Miami – Chicago from $16,600
Aircraft: Cessna 510 Mustang (4 seats)
Time: 3 hours 21 minutes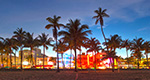 Orlando to Miami by private jet
Orlando – Miami from $3,700 (one way)
Aircraft: Beech BE90 King Air (6 seats)
Time: 1 hour
For private jet charter to Miami from any airport, please call us at (866) 726-1222 or contact us.