Aruba Airport - Private Jet Charter
Overview summary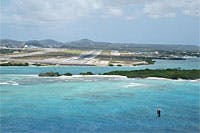 Queen Beatrix International Airport is the gateway to the stunning Caribbean Island of Aruba.
Located on the west coast of the island, the runway approach takes you over the Caribbean sea and includes stunning views of the island.

For private jet charter or helicopter flights from Aruba Airport call PrivateFly on +44 20 7100 6960 (24 hours).
History : Watch approach video : Your views : Location : Opening Hours : Flight Prices
Private Jet Charter Prices Aruba
Instant estimate private jet prices for Aruba
Compare the jet charter market
Live availability for private aircraft
Live prices within minutes
24/7 customer service and jet charter advice
All aircraft accredited for safety
Advice on flying to and from Paris airports
VIP service as standard
Find an price for Aruba private jet charter on any route using our Quick Quote cost calculator
Aruba Airport History
Originally built as a US airbase in 1942 for military operations to protect the Caribbean and the Panama Canal, the airport was known as Dakota Airport. The airport developed in the 1950s as two new terminal buildings were built, and the airport was renamed after Princess Beatrix of the Netherlands.

In 1957 the first turbo-prop aircraft landed at the airport, and the runways have steadily expanded to welcome all aircraft types.

A new dedicated private jet terminal was opened at the airport in 2007.
Landing at Aruba Airport
Your views on Aruba Airport

"There is nothing more beautiful than seeing the sparkling blue waters of Aruba on approach. The color of the buildings against the clear waters is picture perfect!"
"It's beautiful to look down & see the clear blue water. A wonderful way to start an awesome vacation on a gorgeous island!"
"Seeing the sea on either side.Beautiful and soothing at the same time."

In our recent "Favourite Airport Approaches" poll you said:
"The view of the sea, beaches and downtown Oranjestad is amazing."
"I love Aruba's airport because once you've landed in paradise, you are welcomed "home" with open arms by the people of the island.Nothing compares."
Aruba Airport Location
The airport is on the west coast of the island, to the south of Oranjestad town.
Aruba Airport Facts
Opening hours are 07:00–00:00

Airport Codes: AUA / TNCA
Elevation: 60 feet
Aruba Airport has a runway length of 2743 metres (8999 feet). The runway length is suitable for all aircraft types from small propeller aircraft to large airliners.
Private Jet Charter Prices - Aruba Airport
Find private flight prices online for private jet charter to or from Aruba Airport with our private jet cost calculator.
For a personalised quote or further information please contact us or call +44 20 7100 6960 (24 hours).