Paro Airport by Private Jet
Overview summary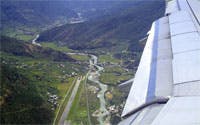 Paro Airport is surrounded by the Himalayan mountains, in the valley of Paro Chhu, and is Bhutan's only international airport.

Paro Airport has been nominated in PrivateFly's 2013favourite airport approaches.
For private jet flights to or from Paro Airport call PrivateFly on +44 20 7100 6960 (24 hours).
Landing | Your Views | Location | Facts | Private Jet Charter Prices
Landing at Paro Airport
your views on Paro Airport

"A truly unique approach towards touchdown between two valleys. Awesome, thrilling experience."
"Sneak peak of Tiger's nest and the sublime Paro Valley."
"Breathtaking views of the highest mountains on earth and the thrilling approach of almost brushing the pine trees. The seat clenching view of the tiny runway, culminating in the shortest heart thumping landing!"
Location of Paro Airport
Paro Airport is 6km from the centre of Paro.
Paro Airport Facts
Call sign: PBH
Lat: 27.4033
Long: 89.4267
Altitude: 7340ft
Runway distance available: 6562ft
Private Jet Charter Prices - Paro Airport
Find private flight prices online for private jet charter to or from Paro Airport with our private jet cost calculator.
For a personalised quote or further information please contact us or call +44 20 7100 6960 (24 hours).