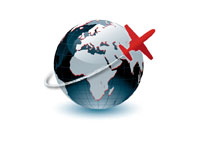 PrivateFly.com is the leading online booking platform for worldwide private jet charter.
As an approved partner you have access to our network of accredited private jet partners, you can compare and book private jet flights online, and you have instant access to estimate flight prices.
PrivateFly partners receive commission on every private flight chartered through the PrivateFly network, combined with VIP customer service available by phone 24 hours.
For private jet charter or advice call us on +44 (0) 1747 642 777
Partner Benefits
Commission share
We work on a commission-share basis, which is built into private jet prices.
Instant estimate prices online
Find instant estimate prices for any flight with our Private Jet Quick Quote.
Exceptional customer service
Our expert team is available by phone 24/7 for flight prices & advice, +44 (0) 1747 642 777.
Access to 7000+ accredited private aircraft, worldwide
The PrivateFly network includes 7000+ accredited private aircraft, we can recommend the best aircraft for any flight.
Quick and easy online booking
Find estimate prices for any private jet flight online, then submit your flight to our network of approved private jet operators for realtime flight quotes.
Compare prices and availability
When you submit your private flight for realtime flight quotes you and your clients can view and compare every quote.
Website content
We offer private jet price tools for your website - contact us for details.