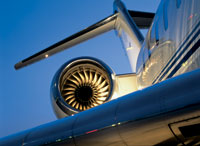 PrivateFly is committed to private jet safety. The security, peace of mind and privacy of all our members is paramount. PrivateFly undertakes a rigorous series of measures and processes before permitting an aircraft operator to be part of the PrivateFly network.
PrivateFly has been created to compare the market of private charter jets, from a global network of over 7000 aircraft that are available for private charter.
In order to operate private jet charter flights, aircraft operators have to, by law, complete a thorough process by which they satisfy the relevant country's Aviation Authority that they are competent to secure the safe operation of aircraft.

This process audits such areas as company safety policy, management and organisational competence, crew training, aircraft maintenance, aircraft loading, flight planning and fuel planning amongst many other matters. If this set of stringent requirements is met, an Air Operator Certificate (AOC) will be granted.
PrivateFly only works with approved operators who have a current AOC certification.

Over and above the AOC requirement, PrivateFly further conducts our own due diligence process before inviting operators to be part of the PrivateFly network.

Our criteria are based on both safety and a consistent VIP customer service standard. This process is based on our own industry expertise and knowledge, and includes full vetting of company insurances, aircraft Airworthiness certificates, aircraft inspections and crew background checks. If requested by our members, PrivateFly's registered aircraft operators will produce these documents prior to any flight booking.
Flight safety is a combination of well equipped and well maintained aircraft and the experience and training of the pilot.

By using PrivateFly you can be assured of flight safety as we only work with accredited operators and have an ongoing due diligence process.
Aviation Authorities and Safety Agencies
To discuss any aspect for private jet charter safety please call us on +44 (0) 1747 642 777