Seats: 8 Speed: Up to Mach 0.925 Range: Up to 7000nm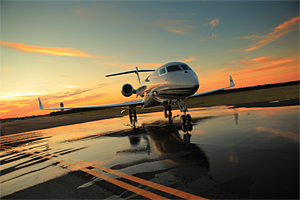 The new Gulfstream G650 (also known as the G6) private jet is the brand new addition to the Gulfstream fleet.
With a top speed of 0.925 Mach, the G6 is one of the fastest business jets on the market. With a range of 7000 nautical miles passengers can fly non-stop from London to Buenos Aires or Dubai to New York.
Its excellent takeoff and landing capabilities mean that you can depart or arrive using shorter runways at a wider range of private jet airports.
The G6's sleek interior configurations will accommodate between 13 to 16 passengers with 4 crew on hand to ensure your flight is seamless. The large cabin is one of the most spacious in its class of long range business jets.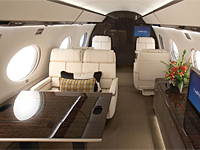 Gulfstream's designers moved away from the usual circular cross-section cabin shape in favour of an oval shape, which allows a flatter lower portion. The cabin will be 6 feet 5 inches high and 8 feet 6 inches wide, and will have sixteen oval windows, each measuring 71 cm (28 inches) wide.
The classic Gulfstream oval windows offer a birds-eye view of the landscape.
The G6 cabin will provide the ultimate in comfort and design with internal features including a full bar and kitchen.
The G650's first test flight took place on November 25 2009. Joint certification from the US Federal Aviation Administration (FAA) and the European Aviation Safety Agency (EASA) is being pursued and expected to be completed during 2011. Deliveries are expected to begin in 2012.
The question remains which private jet operator will be the first to offer the G650 for charter? PrivateFly will make sure you are the first to know...
How to charter a G650
The G650 is not yet available for charter, but for updates on Gulfstream G650 availability or alternative aircraft please call +44 (0) 1747 642 777.