Seats: 4 Speed: Up to 330 kts Range: 1050nm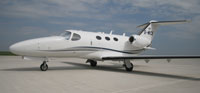 The Cessna Mustang is a ground-breaking aircraft that is more popular by the day as a charter aircraft across Europe and the US.
Due to its relatively high performance over short range and extremely low operating cost, the aircraft – the first ever "very light jet" (VLJ) – is incredibly popular as an air taxi, linking passengers to airports otherwise inaccessible by commercial aviation.
Comfortably sitting up to four passengers, the aircraft offers unbeatable value and efficiency for continental hops of under 3 hours.
Citation Mustang: History : Flight Range : Reputation : Interior
Cessna Citation Mustang History
The Mustang has gone from an impossible concept at the turn of the 21st Century to a vital part of the private aviation industry in under a decade.
First taking to the skies in 2005, 400 Cessna Mustangs have now been sold and the type has become the natural starting jet in the charter market.
Cessna Citation Mustang Flight Range & Runways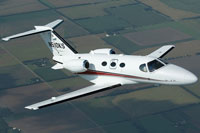 Perfect for short flights of 2 hours or less, the Mustang is the ideal aircraft for short inter-European or US flights of around 1000km.
Despite its small size, its design gives the aircraft good performance that enable it to get into a number of smaller airfields and shorter runways that would otherwise require a propeller aircraft. For example the Mustang is one of the few aircraft that will land in St Tropez-La Mole airport.
Cessna Citation Mustang Reputation
The Cessna brand is key to the success of the Mustang. Cessna's power and experience in the industry has ensured that the Mustang is the "go-to" aircraft for first-time jet owners and charterers, as well as seasoned users who know the excellent value for money it provides.
The advanced cockpit avionics and simple design ensure that the aircraft is naturally very safe. All Mustangs available on PrivateFly's network will be operated with 2 pilots on board.
Citation Mustang Interiors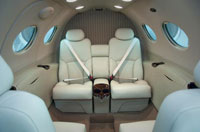 The Mustang cabin entails a single set of 4 seats in a "club-four" configuration facing each other. The cabin is akin to sitting in the back of an executive limousine, with ample space for 4 adults to sit comfortably.
Tables fold out between the sets of seats and there are storage facilities on board for catering.
The Mustang also has excellent luggage space for an aircraft of its size, including having a "ski tube" in the hold that can accommodate skis or golf clubs.
How to hire a Cessna Citation Mustang
For a personalised quote for your private jet flight or further information please contact us or call +44 1747 642777 (24hrs).