Should I buy, charter or share?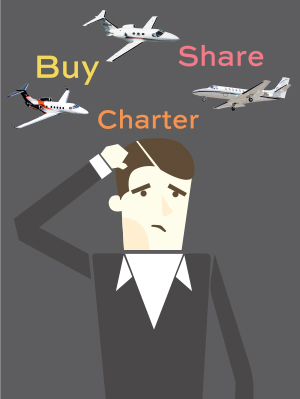 We are often asked – especially by those new to private aviation - about the differences between buying a jet, fractional ownership, chartering, and seat sharing or shuttle services. And which one is the most cost-effective.

In recent years, a number of new business models have entered the private jet market and it's not always clear what they are offering - and how it compares. It can be confusing to weigh up the pros and cons of the different ways to access private jet travel. So here's a rundown of the different ways of travelling by private jet.

Buying a jet: Fractional ownership and jet cards: Private jet charter: Shuttle services & jet sharing: Empty leg services
BUYING A JET
Only a very small number of private jet customers choose to purchase their own aircraft. Owning a private jet offers total freedom and flexibility on an unparalleled level for those who need to fly regularly and at short notice.

But full jet ownership is rarely worth considering for someone flying less than 100 hours per year.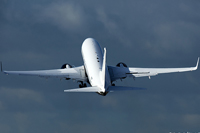 The purchase price can vary from around $400K for small jet with several years and thousands of miles on the clock; to $65M for a much-desired Gulfstream G650; or to upwards of $100M for a Boeing Business Jet - BBJ with a custom interior.

But it's not just the price of buying the jet in the first place. There are the ongoing costs of managing and maintaining the aircraft such as crew salaries, management fees, hangarage and insurance. Plus variable costs including fuel, landing fees and crew expenses. For a medium-sized jet, flying 200 hours per year you can expect to pay around £500K per year.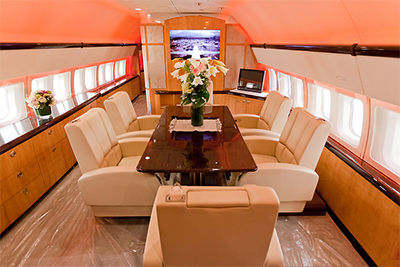 Some private jet owners 'sweat the asset' by making their aircraft available for charter to third parties. This requires an AOC (Aircraft Operator's Certificate), which is granted after the aircraft meets strict safety and quality standards set by aviation authorities.

Once an aircraft has been successfully placed on an AOC it can be chartered through companies like PrivateFly to create an income stream for the owner. But this income stream is unlikely to cover most of the annual costs.

So owning a private jet is a difficult thing to justify even for the wealthiest. Like a car it is only likely to depreciate in value. Most jet owners acquire an aircraft not because they need to own one, but because they want to.
FRACTIONAL OWNERSHIP AND JET CARDS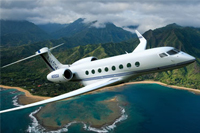 Fractional ownership is a bit like having a 'timeshare' in a holiday property: You own a share of an aircraft - whether this is a quarter, an eighth, etc. A sixteenth share typically would give you 50 hours of flying time. Some fractional jet ownership companies also offer a 'jet card', which provide you smaller amounts of flying time, typically 25 hours or more.

Fractional jet ownership was pioneered in 1986 by NetJets. When it first launched, fractional ownership was appealing to private jet customers who couldn't afford or didn't want to own a jet outright, but wanted the exclusivity and guaranteed availability of a private jet aircraft.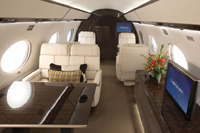 But as fractional owners are required to sign a contract and to pay upfront – in many cases for several years of flying hours – this has become less appealing since the recession. The complex contracts can also be offputting, with restrictions such as peak period limitations and extra charges for using a different aircraft type.

Many price savvy private jet customers use both fractional ownership and charter, so instead of buying 50hrs with NetJets they will buy 25hrs and compare the costs of chartering a jet against fractional rates for each flight they take.

Compare your fractional hourly rate to charter prices

For a small number of private jet customers, fractional ownership can be more cost-effective – such as those who fly a lot of one way journeys or fly between airports on the extreme edges of continents (eg a flight from Iceland to Northern Sweden). More on comparing fractional ownership and charter.
Jet cards are usually a variation on fractional ownership where the cardholder pre-pays for a certain number of flying hours. With many jet cards this can carry the same limitations as fractional ownership, with clients paying a premium for this service.
But PrivateFly's new jet card service brings frequent flyers all the convenience of a jet card, without the price premium. Find out more: The PrivateFly Jet Card.
PRIVATE JET CHARTER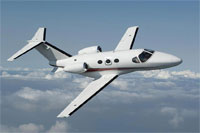 Private jet charter or hire is when you book a specific aircraft for a specific journey. The price you pay is for charter of the whole aircraft, not per passenger.

Charter has become more appealing in recent years to many private jet users who may previously have used fractional ownership. Charter is usually more cost-effective, as you can select exactly the right aircraft for your group size and itinerary, and there is no upfront financial commitment. But previously private jet travellers didn't find it easy to find the right charter aircraft, or to understand how much they should be paying.

But the industry is changing rapidly and new technology has made charter quicker and easier to compare and book.


Charter aircraft are operated by aircraft operators, who may be acting on behalf of individual aircraft owners (see 'Buying a Jet' above) or own and manage their own fleet of aircraft. Some operators have just one aircraft or focus on a particular aircraft; others have a large fleet of different types of aircraft.

There are thousands of charter aircraft available worldwide, of all sizes and types. And the private jet operators that offer them are typically small companies with between 1 and 3 aircraft in their fleet. So in order to find the right one for your journey, at the most cost-effective price, it pays to use a private jet broker or booking service, such as PrivateFly.

At PrivateFly, we have a network of over 7,000 accredited charter aircraft and track their live availability. Operators in our global network instantly quote for your flight requirement, using our unique technology.

This gives a transparent comparison of your options (including detailed specifications and images of the aircraft), expert advice from a 24 hour team, and the best possible charter price.
PRIVATE JET SHUTTLE SERVICES & JET SHARING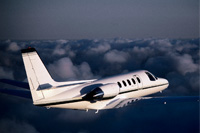 Some companies are now offering private jet shuttles on popular routes or a 'jet share' service: Travellers can buy a seat on a private jet, rather than chartering the whole aircraft. Or join together with other travellers, to share seats on a private aircraft which has already been chartered.

Some companies will charge a significant annual membership fee to subscribe to shuttle services. So you need to weigh this up when you consider the costs. And while these services offer a more comfortable and spacious experience than some airline travel, it's really quite a different offering to private aviation. A shuttle service or jet sharing means users can't take advantage of the flexibility and bespoke nature of private jet travel – usually amongst key reasons for choosing private jet travel in the first place.

You are tied to a defined route and schedule, and share the cabin with other travellers. If the flight ends up being cancelled or delayed your flight may no longer be available.
EMPTY LEG SERVICES
New technology in private jet charter has made empty legs easier to sell, and led to the rise in companies offering private jet empty legs as their main product offering. Empty legs come about when private jets make respositioning flights between booked charters and their home base. These one-way flights, which would otherwise be empty, can then be sold at a discount - often a significant one.

The price opportunity is fantastic, but flight options are limited, and empty legs can be subject to change – so you need to stay very flexible in order to reap the benefit. You also need to be prepared to book at short notice and usually find another way of getting home, as most are one-way.

Most full-service private jet companies offer empty legs anyways (download the PrivateFly app to search our available empty legs), so there's no need to only book through an empty leg only service, where you might not have the wider expertise and industry knowledge to help make your flight happen.
For any questions or advice on private charter pricing, call our Flight Team (24 hours) on 01747 642 777 or contact us.