PrivateFly versus Traditional Private Jet Brokers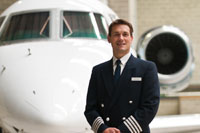 Using bespoke technology combined with a team of experts, PrivateFly makes it much quicker, easier and transparent to book private jet charter flights.
Compare prices from our network of 7000+ accredited aircraft. Find instant estimate prices using our flight search, then Check Availability to submit your flight to our network of aircraft.
| | | | | |
| --- | --- | --- | --- | --- |
| | Traditional Broker | | PrivateFly | |
| Price transparency | | No | | Yes, online |
| Instant market pricing | | No | | Yes, via website or mobile app |
| Aircraft choice | | Varies | | 7,000+ global aircraft network |
| Live, real-time quotes | | 24-48 hours | | Within minutes |
| VIP Service | | Yes, varies | | Yes, 24/7 expert team |
| Online booking | | No | | Yes |
How PrivateFly Works
A traditional private jet charter broker will usually get quotes – by telephone – from a handful of operators, using their judgement to select which operators are best placed for your private jet charter flight. This can take 24-48 hours before you receive a private jet charter quote.

PrivateFly is an online marketplace, where private charter operators quote against each other for every flight enquiry you make.

Our bespoke technology is integrated with the live position and availability of registered and accredited private jet charter aircraft to find the best prices for you.

This means we source for you the most competitive market price available for every flight. You have transparency to compare all available quotes and aircraft online.

PrivateFly charges a consistent fee for the service it provides, and passes on the savings to you. For example, if there is an empty sector available for the same routing.

You can receive an estimate flight price in seconds using our online Quick Quote tool and when you submit your flight to our network of accredited operators, you'll receive flight price quotes within minutes.

Compare and book your private jet charter flights online with PrivateFly. Call our 24/7 expert Flight Team on +44 (0) 20 7100 6960 or contact us online.