Farnborough Airport - Private Jet Charter
Overview summary
Farnborough Airport is a modern and highly-efficient business aviation airport in Europe.
London Farnborough is exclusively dedicated to business aviation, making it a premium choice for business jet passengers travelling to and from London.
For private jet hire to or from Farnborough Airport call PrivateFly on +44 (0)20 7315 4410 (24 hours).
History | Location | Facts | In Film | Air Show | Flight Prices
Private Jet Charter Prices to & from Farnborough Airport
See typical private jet charter pricing below for popular private jet routes to Farnborough Airport. 
Search for pricing for your itinerary using our Flight Search. Or for personalised pricing and advice on private jet or helicopter charter to or from London Farnborough Airport, contact our Flight Team (24 hours) on +44 (0)20 7315 4410.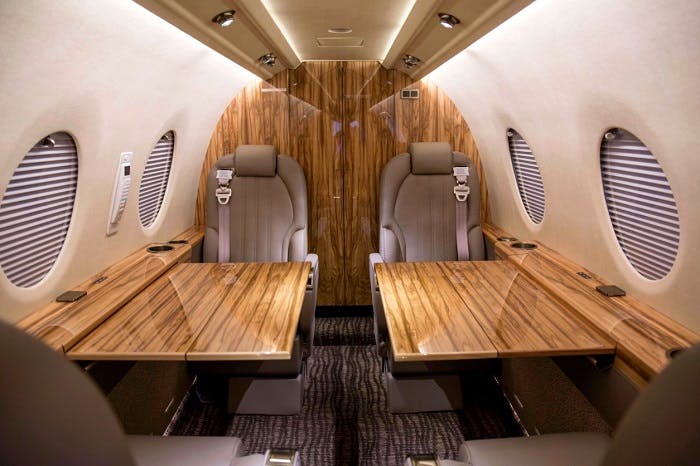 London Farnborough – Nice Cote d'Azur (one-way)
Aircraft: Nextant 400XTi
Seats: 6
Charter price: €7,000
Paris Le Bourget – London Farnborough (one-way)
Aircraft: Phenom 300
Seats: 6
Charter price estimate: €12,500
For private charter pricing on any global route use our Flight Search, or contact our expert Flight Team (24 hours) on +44 (0)20 7315 4410
About Farnborough Airport
With dedicated FBO facilities on site, private jet hire to and from Farnborough Airport is an efficient and seamless experience. Passengers can drive directly to their waiting aircraft, discretion and smooth ground transfers are key benefits of this stylish airport.
The airport has a striking contemporary design, with an elegant control tower, distinctive hangar and chic terminal building.
There is also a luxury hotel, The Aviator Hotel, which is located on the airport's perimeter, allowing private jet passengers and crew flying to and from Farnborough the option of overnight accommodation on their doorstep.
Farnborough Airport History
Farnborough Airport was the UK's first airfield and home to the country's first powered flight in 1908.
Farnborough has long been a centre of military and civil aviation research, and was owned by the MOD during the two world wars, before seeing its first civil aviation operations take place in 1989.
The airport was redeveloped as a business aviation centre in 1994, and TAG Aviation took over the running in 1997. The airport officially became TAG Farnborough Airport in 2003 and TAG subsequently bought the airport freehold at the end of 2007.
In September 2019 TAG Farnborough Airport Ltd was acquired by Macquarie Infrastructure and Real Assets Limited. It changed its name in October 2019 to Farnborough Airport.
Farnborough Airport Location
Farnborough Airport is situated in Farnborough, Hampshire.
Farnborough Airport is approximately 1 hour's drive by road into central London with direct motorway, rail and helicopter transfer connections.
Farnborough Airport Facts
Call sign: EGLF/FAB
Lat: 511633N
Long: 0004635W
Elevation: 238ft
Two runways with a landing distance of 2440m (8005ft)
Direct ramp access to spacious passenger facilities
On-site customs & immigration
On-site 5* hotel
Private lounges and conference rooms
Fuelling  hangar services for aircraft
Farnborough Airport in Film
Farnborough Airport is a distinctive building with striking and stylish architecture - and its become a well-known location for many films and TV programmes featuring private jets.
Amongst others, Farnborough Airport features in the 2008 James Bond Film, 'Quantum of Solace' (where the airport is supposed to be the Austrian airport that Bond flies from), and in the Oscar-nominated 'Inception', where it plays an airport in Japan.
Farnborough Air Show
The Farnborough International Air show first opened to the public in 1948, and has become one of the most well-known aviation events in the world.
The Air Show takes place in July every two years and typically draws over 110,000 visitors, with both static and flying displays of over 150 aircraft.
Watch a video we made at the Farnborough Airshow, looking at industry trends.
How to charter a private flight from Farnborough Airport
For a personalised quote or further information please contact us or call +44 (0)20 7315 4410 (24 hours).