Spotlight on: Gulfstream G650/ G650ER
For private jet charter advice and prices call our 24 hour expert Flight Team on +44 (0)20 7315 4410 or search for instant estimate prices from your local airport using our flight search:
The Gulfstream G650/ G650ER (also known as the G6) private jet is the newest flagship aircraft in the Gulfstream fleet, and one of the world's most desirable business jets.
Seats: 8-19 Speed: Up to Mach 0.85   Range: Up to 7500nm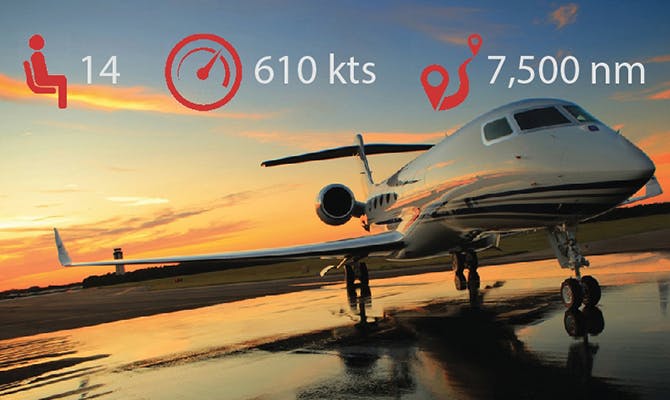 With a top speed of 0.85 Mach, the G6 is one of the fastest business jets on the market. In March 2014, the Gulfstream G650 recorded two record breaking flights from LA to Melbourne and New York to Mumbai.
The launch of the G650ER in October 2014 extended its record range to 7500 nautical miles. This allows passengers to fly non-stop between city pairs such as London to Buenos Aires or Dubai to New York.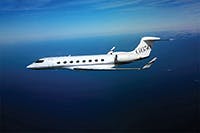 Its excellent takeoff and landing capabilities mean that you can depart or arrive using shorter runways at a wider range of private jet airports around the world.
The G6's sleek interior configuration options accommodate between 8 to 19 passengers with 4 crew on hand to ensure your flight is seamless. The large cabin is one of the most spacious in its class of long range business jets.
Gulfstream's designers moved away from the usual circular cross-section cabin shape in favour of an oval shape, which allows a flatter lower portion. The cabin measures 6 feet 5 inches high and 8 feet 6 inches wide, with its sixteen oval windows, each measuring 71 cm (28 inches) wide.
The classic Gulfstream oval windows are a distinctive characteristic that flood the cabin with light while offering a birds-eye view of the landscape.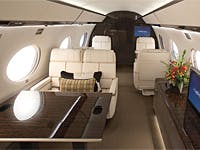 The G6 cabin also provides the ultimate in comfort, design and technology. Its cabin system replenishes 100 percent fresh air every two minutes, with the lowest cabin altitude in its class. Internal features include a high-tech cabin management system, a full bar and kitchen.
The G650's first test flight took place on November 25 2009, with Joint certification from the US Federal Aviation Administration (FAA) and the European Aviation Safety Agency (EASA) completed in September 2012. The G650ER then followed with certification in October 2014.
How to charter a G650
The Gulfstream G650 is available for charter through PrivateFly with a growing number of G6 aircraft based globally. For details and pricing for how to charter a G6, contact us or call the PrivateFly team 24hrs on +44 (0)20 7315 4410.