Spotlight: HondaJet
For private jet charter advice and prices for the HondaJet call our 24 hour expert Flight Team on +44 (0)20 7315 4428 or search for instant estimate prices from your local airport using our flight search:
Runway Distance: 950 metres Speed: Up to 450 mph Range: Up to 1350 miles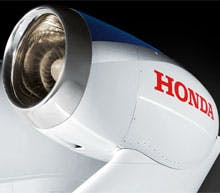 The HondaJet is the product of 10 years dedication on the part of the newly formed Honda Aircraft Company.
Its revolutionary design, characteristic of Honda's ingenuity, has been developed to create a small jet with unrivalled efficiency.
Developed from the Honda MH02, an experimental aircraft built in the 1990s, the aircraft incorporates a number of unique features. The most eye-catching of these are the uncommon over-the-wing-mounted engines that allow greater cabin space and dramatically improve fuel consumption. Combined with the innovative 'natural laminar flow' wings, Honda boast that their aircraft will be 25-30% more fuel-efficient than its competitors comparable aircraft.
HondaJet's Video
Honda's unusual design has resulted in a surprisingly spacious cabin for an aircraft of its size.
While externally, the aircraft is the same size as other Very Light Jets (VLJs), the HondaJet has 5 passenger seats and a separate lavatory, as well as a refreshment area. When the aircraft are delivered (now expected in late 2015), they will feature state-of-the-art electronics for both pilots and passengers.
Honda's current performance statistics indicate that this will be an ideal aircraft for making short hops of 3 hours or less within continents.
How to charter a HondaJet
For HondaJet availability and private jet charter prices please call +44 (0)20 7315 4394.