Embraer Legacy 500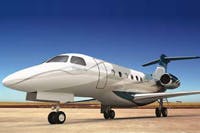 The Legacy 500 is the latest addition to the fleet of business aircraft from Brazilian aircraft manufacturer Embraer.
Designed to bridge the gap between the Phenom 300 and the existing, popular Legacy range (450, 600 and 650), this new aircraft competes against mid-sized rivals such as the Citation Latitude, Citation X and Bombardier 70/75.
The aircraft first flew on 27 November 2012 and became available for charter in 2015.
PrivateFly investigates what the Legacy 500 brings to the global jet charter market.
Performance
The Legacy 500 has an impressive maximum range of 3125 nm, making it one of the most versatile aircraft in the mid size jet category.
This extended range will mean the aircraft can fly non-stop from coast to coast in the USA or fly direct from London to Jeddah.
The Legacy 500 is powered by 2 Honeywell HTF7500E engines, which allows the aircraft to cruise at Mach 0.83 with a maximum altitude of 45 000 feet.
The Legacy 500 also allows for a minimum take-off distance of 4 600 feet / 1 403 metres, resulting in the Legacy 500 being able to perform medium to long range routes from airports with short runways, such as London RAF Northolt.
This improved performance means that the aircraft will be able to use the majority of private jet airports throughout the world.
COMFORT AND DESIGN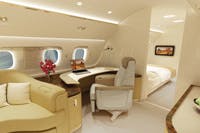 The flight deck is equipped with the most up to date avionics in the industry, with full, fly-by-wire controls and a Head Up Display (HUD) for both pilots.
The cabin is also designed for maximum passenger comfort. Measuring 6 feet high and 6 feet 10 inches wide, the cabin is larger than any other aircraft in its class, including the Cessna Sovereign, Hawker 900 and Learjet 85.
The aircraft also boasts an impressive total baggage capacity of 150 cubic feet, with both internal and external storage areas.
How to charter a Legacy 500
The Legacy 500 is now available for charter on the PrivateFly network.
For more information on the Legacy 500 or if you are interested in a charter of any Embraer aircraft,
please contact us or call +44 20 7100 6960.