Nose to Nose: Legacy 600 versus Falcon 900LX
For private jet charter advice and prices call our 24 hour expert Flight Team on +44 (0)20 7282 4987 or search for instant estimate prices from your local airport using our flight search:
Sometimes a client will come to us with a specific aircraft in mind. But it may be that the aircraft they used last time isn't the right choice this time. It will depend on the length of the flight, the routing, or the size and needs of the group travelling – as well as personal preferences.
Here we look at two rival aircraft and weigh up their differences, nose to nose.

Need advice on which aircraft to choose? Contact our expert Flight Team on +44 20 7100 6960.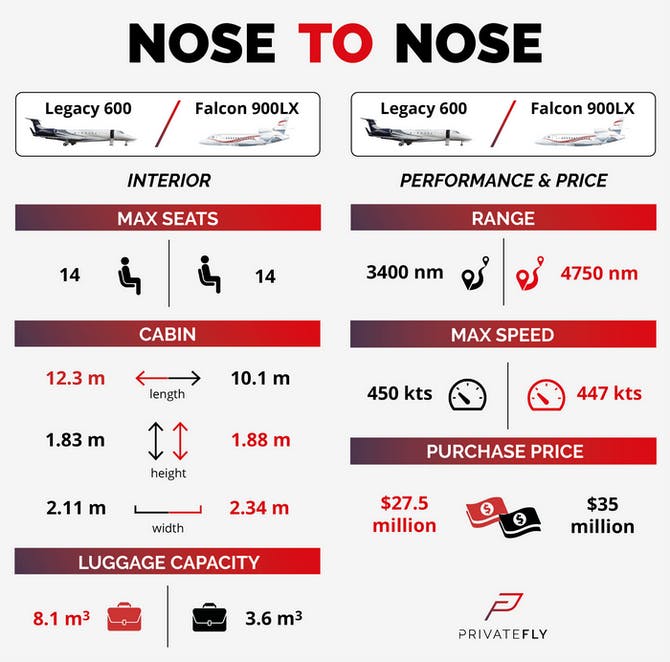 Should I charter a Legacy 600 or a Falcon 900LX?
Both the Embraer Legacy 600 and the Dassault Falcon 900LX fall into the Long Range Jets category. And on first glance they might appear similar. But in fact they are quite different.
Why choose the Legacy 600?
The Legacy 600 one of the most cost effective aircraft in Europe in its class. Compared to the Falcon 900LX, it has lower running costs and there are more dedicated charter aircraft (rather than being made available for charter by private owners).
For example to fly from London to Rome (one way), a typical charter cost on a Legacy 600 would be £21,100 (€24,000), versus £26,400 (€30,000) for the Falcon 900LX.
And in terms of space, the Legacy 600 comes out on top too. It can comfortably carry a full load of 13 or 14 people without compromise of luggage space. It's effectively a converted 40 seat regional airliner, with space for 30+ suitcases, and has one of the best baggage capacities of any private jet.
The Falcon 900LX, although capable of seating 12-14, usually only holds a maximum of 8 as both the cabin and luggage space will feel pretty full after that. It is considerably shorter than the Legacy 600's longer cabin.
In summary: The Legacy 600 is more cost-effective for shorter flights and larger groups, with its longer cabin and excellent luggage capacity. Widely available for charter.
Need advice on which aircraft is best for your flight? Contact our expert Flight Team on +44 20 7100 6960.
Why choose the Falcon 900LX?
However when it comes to performance, the Legacy can't compete with the Falcon 900LX. The Legacy's range gives 4 - 5 hours of flight time and its take off performance is limited, especially heavily loaded. Its smaller wings and moderately-powered engines means more runway length is required.
The 3-engined Falcon 900LX on the other hand has more power and greater short field performance. It can use shorter, steeper and more challenging runways , such as London City Airport, that wouldn't be possible for the Legacy 600.
The majority of our Falcon 900LX flights are for flights over 6 hours, such as London to Jeddah, Bristol to Baku, or Miami to Paris. These routes on a Legacy would require a fuel stop, whereas the Falcon can power on, for flight times of up to 9 hours.
In summary: More power and range. The Falcon 900LX tri-jet can access shorter runways and fly faster routes over oceanic or desert areas.
Need advice on which aircraft is best for your flight? Contact our expert Flight Team on+44 (0)20 7282 4987.