Pilatus PC-12
For private jet charter advice and prices call our 24 hour expert Flight Team on +44 (0)20 7315 4417 or search for instant estimate prices from your local airport using our flight search: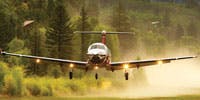 The Pilatus PC-12 is a single turboprop engine that combines excellent economy, reliability and versatility.
The Pilatus PC-12 is certified in over twenty countries and is certified for flight for single pilot commercial Instrument Flight Rules (IFR) operation.
The turboprop can operate on various runways, including grass and unmade runways.
PILATUS PC-12 FLIGHT RANGE & RUNWAYS
The Pilatus PC-12 has a flight range of 1400 nm and is capable of operating on short runways.
PILATUS PC-12 INTERIOR
The cabin of the Pilatus PC-12 provides two crew seats and six executive chairs with fitted cabinets and tables. The executive chairs can be arranged for private relaxation or for work with conference-style seating for four.
The baggage area is accessible in-flight.
CHARTER A PILATUS PC-12
The Pilatus PC-12 is available for charter on the PrivateFly private jet charter network. To charter a Pilatus PC-12 for your next private jet flight, call +44 (0)20 7315 4417.