Flying with Guns and Gundogs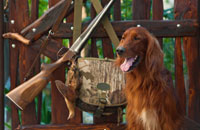 As the shooting and fishing season approaches, PrivateFly is receiving more and more enquiries for flights with dogs, rods and guns.

The primary benefits of private jet and helicopter charter to shooting and fishing destinations is the ability to get closer to your final destination faster; and you can carry weapons, fishing rods and even gundogs on board with minimal fuss.

As the "Glorious Twelfth" fast approaches, PrivateFly's team is standing by to assist with expert advice on how to get to your estate, grouse moor, or river.

Fishing rods rarely present problems, as charter aircraft usually have generous luggage allowances (normally starting at 30kg per person) however travelling with guns and gun dogs requires some planning.
Call 020 7100 6960 for private jet charter for shooting trips and flying with gun dogs or pets.
TIPS FOR FLYING WITH GUNS AND GUNDOGS
Our flight team frequently offers advice to customers travelling with hunting, shooting and fishing equipment and dogs on board private jets. Here's our top tips:
Carry photocopies of your gun licence
Customs and Immigration Officers may want to check your licence on the day of the flight. Having photocopies of your licence to hand will reduce the time before departure.
Avoid carrying ammunition
Not all aircraft operators have the requisite 'dangerous goods' licence that is necessary for transporting ammunition for sporting weapons. If ammunition is permissible, each passenger is limited to 5kg only and it must be stored in separate and non-accessible locations within the aircraft. This can result in delays to your departure. The simplest advice is to avoid carrying ammunition in order to avoid any possible complications on the day of your flight.
Easy to carry & open case
Some pilots and almost all Customs and Immigration Officers will want to inspect your weapons prior to flight. If your case is easy to open and close, this will reduce the time taken for this inspection.
Label your gun & case clearly
Customs and Immigration Officers may take your gun away to an inspection room where other guns will be located. Having your gun labelled will avoid it being returned to you in the wrong case. Having a clearly labelled case will also help your crew to identify your gun when loading and unloading the aircraft.
Check quarantine regulations for your gundog
Animals can fly in the cabin with you on most private charter flights. However you will need to check quarantine or pet passport regulations before you travel, especially if flying internationally. We have an detailed page on travelling with pets.
Get closer to the shoot site by helicopter
Most shooting estates, and grouse moors are not close to airfields. Helicopter charter is often the solution that will get you there in the shortest time possible.

For instance, you can take off from Battersea Heliport in the heart of London and be on a Derbyshire grouse moor in an hour. Or land beside a country house in Perthshire in two!

Furthermore, combine a private jet charter flight to the nearest airport with a helicopter transfer direct to your shoot. Nothing quite beats landing directly in the action! Your bags can also be waiting by the time you arrive back at the lodge.
Luggage limitations
Despite usually generous luggage capacities, it is always important to tell us what luggage you are intending to carry. PrivateFly is aware that luggage is often not just limited to sporting clothing, and that one bag is not always enough!
Book your flight in advance
Passengers can travel with sporting weapons on private jets and helicopters as long as the regulations are met. Booking your flight in advance will allow PrivateFly to inform all parties that guns will be on board. As long as the correct procedures are followed, and the relevant authorities are informed, there will be no delays to your flight.
HOW TO CHARTER PRIVATE FLIGHTS WITH GUNS AND GUN DOGS
Call PrivateFly on 020 7100 6960 to book your hunting trip by private jet or helicopter.