HondaJet Update
Our HondaJet interview took place in 2013, and the HondaJet aircraft is now available from our network of accredited operators.
For private jet charter prices and aircraft availability call our 24 hour expert team on 020 7100 6960. Or use our flight search to search for prices on any flight route worldwide: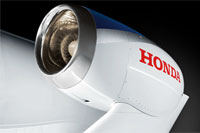 One of the most anticipated arrivals in the private jet industry is the HondaJet.

HondaJet is Honda's (yes the automobile company) first foray into the business aviation market, and the first deliveries are due in 2013.

The second FAA conforming HondaJet flight took place in November 2011.

HondaJet's dealer manager Octavio Almeida updates us on HondaJet's design and development, delivery schedule and when HondaJet will be available for charter.

How did you get involved with HondaJet?
A couple of years ago I met my former boss from my Embraer days at EBACE. He had come out of retirement to run HondaJet's international sales and the launch.
We had previously worked together launching Embraer's Legacy into the European business aviation market.

I am thrilled to be able to launch another business jet and company in this market, especially an aircraft as exciting and innovative as the HondaJet.
What's the latest HondaJet news?
On Friday November 18th, Honda flew its second FAA-conforming HondaJet, painted a beautiful bright red. After a delay in the engine certification, the programme is running well. To accelerate the certification program, Honda will be increasing the number of aircraft involved in certification tests from five to six.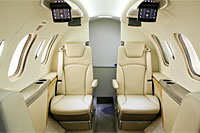 What's unique about the HondaJet?
1.The over-wing engine mount
Honda engineers developed an over-the-wing engine mount which means lower drag than the standard rear-fuselage engine mount design.
As there are no fuselage-mounted engine supports the interior cabin space is maximized, and the engine design makes the aircraft lighter with less noise and vibration.
2. Lighter fuselage
The unique lighter fuselage structure means larger interior cabin space.
3. Natural-laminar flow design
The HondaJet natural-laminar flow (NLF) design for wing surface and fuselage nose makes the HondaJet capable of significant fuel economies while at the same time flying faster (up to 420KTAS) than its competitors.
In short, the HondaJet is a step above the competition in terms of cabin sophistication. Its speed, lower fuel consumption and operating costs, and Honda's legendary reliability and attention to detail make the HondaJet an exciting new entrant in the business jet market.
How have the press reviews been so far?
Honda Motor Company's reputation for superior engineering is well known throughout the world. Now Honda have decided to put its engineering talents to designing a superior aircraft. The aviation press is using expressions such as "Concept: Proven" and "an engineering tour-de-force". Popular Science magazine gave it the "Best of What's New" award.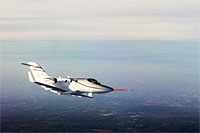 What have Honda been able to bring into Aviation from their automobile experience?
Many people, when first learning that Honda is making an aircraft, think "I hope it will be as reliable as the Honda cars…"

Actually, Honda's engines and products have a remarkable reputation for superior reliability. Of course Honda wants its aircraft to be not just more reliable than any car, but more reliable than any other aircraft on the market.

Commercially HondaJet aircraft are sold through a Dealer network (in the same way as Honda automobiles). Each Dealer is both a sales organization and an authorized service centre, with a local inventory of parts, tools and trained maintenance engineers. In both North America and in Europe, clients won't be more than a 90 minute flight away from a HondaJet service centre.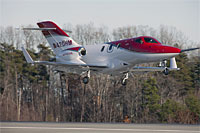 Who is a typical HondaJet customer?
A combination of corporate flight departments buying the most efficient and economical small jet to operate, and individual clients, who are often also pilots looking to fly an advanced performance light jet.

Some clients are excited about the HondaJet's efficiency, whereas others like the sleek design and speed.
When will European customers be able to view a HondaJet?
HondaJet's FAA certification is scheduled for the middle of 2013, and first deliveries will arrive in the autumn 2013. TAG Aviation will get its first demonstrator HondaJet in the third quarter of that year, and shortly afterwards PrivateFly members will be able to charter HondaJet.
How long until HondaJet is available to charter?
We expect to have it EASA certified shortly after, but it is hard to predict a precise date. As soon as that happens (late 2013, perhaps?) TAG will operate its HondaJet commercially, as both a charter and demonstrator aircraft. Everyone is already asking about it!
Thanks to Octavio Almeida for keeping PrivateFly updated on HondaJet's progress. As soon as HondaJet arrives on the PrivateFly charter network, you'll be the first to know.
For more information on our services or for a personalised private jet quote please contact us or call 020 7100 6960 .