Interview with pilot Yann Perrault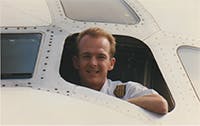 After having piloted airliners for French company Air Liberté, Yann Perrrault joined private aviation few years ago.
We contacted him to know more about his experiences as a jet pilot
Have you always wanted to become a pilot? What path did you follow?
Naturally curious and always wanting to understand how things worked, I became interested in aerospace at an early age, with a predilection for aviation.
When I was a teenager, I joined an aero club to learn how to fly, before studying in the best flying schools to become a professional pilot.
Highly motivated and lucky enough to be recruited right out of school by Air Liberté, I worked as an airline pilot for eight years until that company went out of business.
What was your first flight?
I flew for the first time sitting on the knees of a Caravelle captain at the age of 6. It was still possible at the time and I remember vividly how fascinated I was by the incredible complexity of the cockpit. In the eyes of a young boy, it looked like Captain Nemo's submarine!
Do you prefer flying an airplane or a helicopter?
They are two very different ways of flying, but both thrilling and also complementary.
Piloting a helicopter is all about dexterity. It requires a lot of skills, for example when speed no longer allows the aircraft to fly and it must be landed on a dime as closely as possible to the front of a company or a factory.
Very soon, new engines called TiltRotor will allow VIP passengers to enjoy the best of both worlds over medium range distances.
Why did you become a pilot for the private aviation?
Commercial airlines are absolutely necessary, but private aviation allows me to have more direct contacts with clients, without overlooking price considerations. Then, it's also a matter of opportunity...
What does NetJets bring to this industry?
NetJets was a pioneer in fractional business jet ownership.
Its strong shareholder structure allowed a rapid and sustainable growth, which encouraged aircraft production and opened the market to new types of clients.
What is the most important thing that you have learned with NetJets?
NetJets allowed me to combine the technical and commercial experience I had gained in commercial aviation, with the excellence in personal service required in private aviation. I also learned how to work in a multicultural environment, serving clients with a broad diversity of cultures and expectations.
You are amongst a rare group of pilots trained in the Chinese private aviation. What attracted you to that particular market?
Private aviation has only recently been introduced in China. The potential for growth is exceptional there, but things are not organized in the way are they are in the West. It's a market only accessible to specialists.
I wanted to acquire that expertise and become one of the key players involved in the Chinese market.
Are you working on a project that you would like to share with us?
I am a very open individual, with good listening skills and a real entrepreneurial spirit. That is why I provide my services to those who are willing to challenge themselves and expand their businesses into new markets.
HIGHS AND LOWS
What is your favourite runway or helipad and why?
I always love a challenge, so landing on a short runway with a steep approach, like the one at London City airport, and in strong winds is a treat and a great exercise in concentration.
I also enjoy approaching runways in San Francisco, the Maldives, in the middle of the Alps at Samedan or during the winter near the Pole: these moments are truly magical. My dream is to land a helicopter on the deck of a mega yacht.
What is your best memory of flying?
It was a beautiful sunset in calm weather, and you could feel the plane gliding through the air. We were flying a young couple. Both were mute and deaf, and they were flying for the first time. The cockpit door was opened and they enjoyed the view as much as we did. I turned around and waived to ask them if they were all right.
They were holding hands and the view was so breath taking that emotional tears were running down their cheeks... that was the best answer they could have given me.
What tip would you give to a young pilot to ensure a smooth flight? 
Security should be their priority. Then, being prepared and communicating well with clients and colleagues are both equally important to conduct a flight.
What is the best piece of advice you ever received?
A good pilot is an old pilot.
Which means that you need to know your limits and stay humble enough to realize that there is always room for improvement.
As a pilot, what question do you get asked the most?
It must be great to see the sun every day.
What do you like the most about your job?
Using the aircraft technology, as well as the tools, human resources, knowledge and experience at my disposal to transport clients safely, and doing it with a genuine sense of service while keeping the costs down.
What is your least favourite thing of your job?
When weather elements are against me, and that despite all my efforts to guarantee their safety, comfort and peace of mind, I can't offer a smooth flight to my clients.
ON BOARD
What do you take with you on a flight?
My pilot's licence, my passport, a smartphone to stay in touch with friends and family, and most importantly, the eagerness to provide the best flight to my clients.
What is your favourite aircraft and why?
An aircraft is like a musical instrument: every one knows how to play a note but to give a concert you need to master all its technical specificities. Each one is built for a specific purpose, and you need to be aware and mindful of its limits.
Where was your last flight (to and from)?
I love the feeling of taking off for the far end of the world on one day, then flying close to home on the next, just to discover that there is so much to see right there.
AVIATION FUTURE
How do you think private aviation will evolve within the next 5 years?
To answer this question, we need to differentiate the needs of different markets as well as different clients.
Since Europe is facing an economic crisis, we should consider developing operational and commercial synergies on a global scale. Private aviation is closer to operators and in the unique position to provide the range of aircrafts, confidentiality, flexibility and timesaving that our clients are looking for.
For European private jet operators, the ability to attract new investors, mostly from Asia, could be a way to continue to grow, while increasing Asian customer spending in our region.
What piece of advice would you give to someone who wants to become a private jet pilot?
Start by learning the basics on a small aircraft, gain experience by flying airliners and master the intricacies of cost control, in order to understand perfectly your clients' needs.
To someone flying in a private jet?
Our clients are usually business leaders who know how to get the best out of people, including their flight crew.
I would encourage them to always communicate their needs in order to receive the most appropriate level of service.
What is the most significant change in the aviation industry that you have witnessed during your career? 
A growing concern for security and new cabin layouts. Nowadays, aircraft interiors are designed like private apartments with the same attention to details and quality materials that can be found in luxury automobiles.
PILOT'S PERSONAL FILE
What do you miss the most when you are flying?
My family.
What are you reading?
I am currently very interested in reading about the conception and engineering of mega yachts. Keeping abreast of what is done in other industries is a good way to continue providing the best offer to your clients.
If you could fly to any destination today, where would you go and why? 
I would go to Patagonia, Southern and Antarctic regions or the Galapagos to see natural wonders and meet different people.
Since you travel a lot, what is your favourite hotel?
I love the eco lodge Adrere Amellal located in the Siwa Oasis, a peaceful remote location in the Egyptian desert.
What is your favourite city?
Each city has its own atmosphere, but Manhattan (New York) is always magical... and there are a lot more to discover!
What car do you drive? 
I dream of a new type of car: ecological, but with a lot of autonomy.
When you fly by scheduled airline are you first in the check-in queue or are you last on the plane?
I like to board at the last minute, especially for long-haul flights. It makes me feel more in control of my time.
What is your least favourite thing when you travel on a regular flight?
The time wasted between your arrival at the airport and the moment your plane finally takes off.