Interview with a Pilot: Eric Swaffer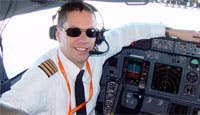 Eric Swaffer is a private jet and helicopter pilot, with over 20 years of flying experience.
Eric's helicopter flying has been hugely varied and challenging. Eric has flown helicopters for live media broadcasting including "The Big Breakfast" and the Virgin Radio traffic helicopter.
Initially Eric's "fixed wing aircraft" career started in the airlines before he moved across to private aviation. Eric now flies both helicopters and private jets and and is also a JAA (Joint Aviation Authority) Instructor and Examiner for several aircraft and helicopter types.
PrivateFly caught up with Captain Swaffer in between flights to Nice, Mykonos and London and asked him some of the questions you've always want to ask a pilot...
Private Flying Career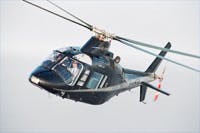 Did you always want to be a pilot and what was your career path to becoming a pilot?
I developed an interest in aviation as a child following a flight deck visit. My aviation career started as a sponsored Bristow Helicopters cadet. After flying helicopters on the North Sea for around five years, I then had the pleasure of five years flying helicopters for charter and private owners.
Then I spent five years flying scheduled airlines, and for the last eight years I have been in private and business aviation. I have gained Instructor and Examiner ratings for a variety of helicopter and fixed wing types along the way. I have project managed over twenty aircraft purchases, so have good experience of the pitfalls that are involved with a purchase and set up of a new operation.
Where was your first flight (to and from)?
My first solo flight was from Leavesden, an airfield near Watford which is now closed.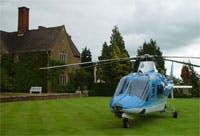 Do you prefer flying a helicopter or fixed wing aircraft?
I prefer flying helicopters but enjoy the destinations and night stops that comes with flying fixed wing aircraft.
What's on your annual training schedule?
I usually keep a couple of fixed wing and a couple of helicopters current at any one time, this involves an annual rating renewal for each type. I am also an instructor and examiner so this involves further exams every 3 years.
In addition, if I fly a charter aircraft, there are six monthly Operator Proficiency Checks and ground exams such as first aid, dangerous goods, fire and smoke training and a safety course called Crew Resource Management (CRM).
Highs and Lows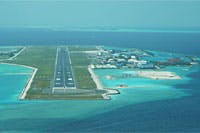 Favourite airport approach or helicopter landing sites and why?
It's very hard to choose one. Male in the Maldives is a stunning approach, and as well, Samedan near St Moritz has wonderful views of the Alps. Monaco Heliport is a spectacular approach when flying low level along the coast from Nice with the the Alps in the background.
What's your most memorable flight?
It has to be winching an injured person on board a helicopter from a ship 100 miles north of the Shetland Islands, in 70 mph winds and deep swell.
Top flying tip?
Use all available assets, including people, to help you, flying is all about teamwork.
What's the best piece of flying advice given to you?
Gain airline command before moving into private aviation.
As a pilot what question do you get asked the most?
Do you prefer aeroplanes or helicopters?
What do you love about your job? 
The travel is incredible, as well as the fantastic people you meet along the way.
What's your least favourite thing about your job? 
The 12 hour night flights are never high on any pilot's wishlist!
On Board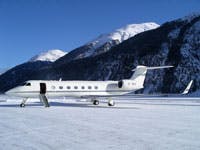 What's in your pilot's bag?
I always carry my Macbook Pro and my Blackberry. If the flight is involves an oceanic crossing or when you are expected to be several hours from a diversion airfield, I like to check the aircraft has a medical kit and defibrillator as well as the mandatory first aid kit.
Favourite aircraft and why?
The Gulfstream G550, for its long flight range and therefore variety of destinations.
Where was your last flight (to and from)?
I've just flown back into London from sunny Mykonos.
Future of Flying
What's the one thing you think will change private aviation in the next 5 years? 
For non charter aircraft I expect to see greater regulations, improved and more refined training.
What advice would you pass on to:
Someone who wants to be a private jet pilot
For the best foundation in flying either join the military or an airline. Without doubt the military provide the best training, the commercial world cannot come close in terms of resources. However one would need to be aware that flying in combat may become "interesting" on occasions.
Someone flying by private jet
If you have any doubts about a flight you should always look for advice from a trusted and experienced pilot, eg Adam at PrivateFly.
What's the biggest change in aviation during your flying career? 
Advances in technology are constantly changing aviation.
Pilot's Personal File
What's the one thing you miss when you're travelling? 
Whilst it's great not to have to do the washing up afterwards, I do miss home cooking.
What are you reading? 
Endgame: The End of the Debt SuperCycle and How It Changes Everything, by John Mauldin and Jonathan Tepper.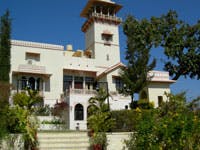 If you could fly anywhere today where would it be and why? 
I'd be on a plane to Udaipur in India - Rajasthan is marvellous just after the Monsoon.
As you travel a lot what's your favourite hotel? 
For a luxury stay the Gstaad Palace is unbeatable. The JW Marriott in Juhu, Mumbai, India is a top favourite. The service and facilities are astonishing, it's almost my second home as I've spend 180 nights here over the last couple of years. When I have been free of work commitments in India, I adore the Jaipur House Hotel in Mt Abu Rajasthan, it's a restored Palace in a beautiful hill station. We feel a special connection with the hotel since we were the first guests to stay.
What's your favourite city? 
Vienna for the culture and architecture.
What car do you drive? 
Audi A4; in driving as in flying, safety and reliability is everything to me.
When you fly by scheduled airline are you first in the check-in queue or are you last on the plane? 
I am ALWAYS the last one on board!
What's your least favourite thing about flying by scheduled airline? 
Queues, queues and more queues for check-in, security, and boarding.
Thanks to Eric Swaffer of International Flight Crew for answering our "ask the pilot" questions.
Eric Swaffer currently flies commercial and private aircraft including:
The Gulfstream GV, Gulfstream G450, Gulfstream G550, Gulfstream GIV, Boeing B737-700, Citation XL, Citation 525, Citation 550.
He also flies helicopters including: 
AS332(L) Super Puma, Sikorsky S76, Agusta 109, AS355 Twin Squirrel, SA341 Gazelle, Bell 206 Jetranger, Robinson R44, Robinson R22.
Images © Eric Swaffer
Ask the Pilot

If you have any questions you'd like to ask the pilot contact us or send a twitter message to PrivateFly with the tag #askthepilot.