24 hours of Le Mans by private jet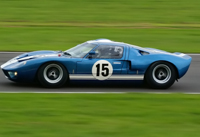 24 Hours of Le Mans (24 Heures du Mans) is one of the world's most famous race events.

The 24 hour annual event originated in 1923 and takes place in the town of Le Mans in the north west of France, on the Circuit de la Sarthe.
Nearby airports and helicopter landing sites are very busy during the few days around the race. So we recommend booking early to secure availability and preferred slot times.
To book private jet charter flights to or from Le Mans call our 24/7 team of experts on 020 7100 6960.
Closest private jet airports to 24 Hours of Le Mans
Le Mans Arnage Airport is just 3km from the circuit, and can accommodate small propeller aircraft and helicopters.

For larger aircraft, we recommend using Angers Marce Airport, which is 75km away. A landing here can be combined with a helicopter transfer, to avoid the traffic congestion on the ground.
Private jet & helicopter prices to 24 Hours of Le Mans
Paris to Le Mans Arnage from €3 460 (overnight return)
Aircraft type: King Air
Passengers: 8
Flight time: 46 minutes
London to Angers Marce from £4 200 (overnight return)
Aircraft type: Citation Mustang
Passengers: 4
Flight time: 58 minutes
Geneva to Angers Marce from €5 320 (overnight return)
Aircraft type: Citation Mustang
Passengers: 4
Flight time: 1 hour 5 minutes


Helicopter transfer from €1 750 (one way): Angers Marce Airport - Le Mans Airport
Private jet & helicopter charter to 24 Hours of Le Mans
For a personalised quote for your private jet charter or helicopter hire to 24 Hours of Le Mans please contact us or call 020 7100 6960