Shopping in Milan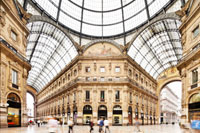 Enjoy an overnight shopping trip to Milan - with a private jet charter you'll spend less time at the airport and more time in the shops.
Choose a London airfield closest to your home, and enjoy the VIP catering and comforts on-board before arriving into Linate Airport, where seamless ground transfers will take you straight into central Milan.
For private jet charter flights, advice and pricing call our 24 hour team of private jet experts on 020 7100 6960. Or see instant flight prices from your local airport to Milan by using our flight search:
The time is yours to enjoy the city's fashion highlights and some of its many excellent restaurants.
Leave when you want to; your aircraft will be waiting - and there will be no excess baggage charges for your shopping bags!
Private Flights to Milan
London - Milan Linate - London
Overnight return
Aircraft: Small jet
Seats: 4-6
Flight estimate: £7 100*
How to book private flights to Milan
Contact us or call us on 020 7100 6960 (24 hours).