MIPIM BY PRIVATE JET
MIPIM is a 4 day property market event at the Palais Des Festivals in Cannes, taking place in Ma​rch each year. The event sees an influx of real estate industry visitors to the Cote d'Azur, from people from all over the globe, including investors, developers and hotel groups.

The nearest private jet airports to the Palais Des Festivals in Cannes are Cannes Mandelieu Airport (approximately 4 miles) and Nice Cote d'Azur Airport (approximately 15 miles).
Call us now on 020 7100 6960 (24 hours) to book your private jet or helicopter transfer to MIPIM.
Flying into Nice by airline? PrivateFly can also offer exclusive pricing on helicopter transfers from Nice Cote d'Azur Airport to Cannes Harbour, which is just moment from the Congress centre where MIPIM takes place. Taking under 10 minutes, this is the fastest way to beat the traffic and take you straight to the event.
PRIVATE JET FLIGHTS TO CANNES MANDELIEU AIRPORT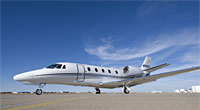 Palais Des Festivals is located approximately 4 miles away from Cannes Mandelieu Airport

London - Cannes
Hire of whole aircraft: £7,200 (2 night return)
Aircraft Type: Citation CJ2
Passengers: 6
Flight Time: 2 hrs
Call 020 7100 6960 (24 hours) or contact us to book your private jet to Cannes
PRIVATE JET FLIGHTS TO COTE D'AZUR AIRPORT, NICE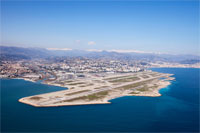 Palais Des Festivals is located approximately 15 miles from Nice Cote d'Azur Airport.

London - Nice - London
Hire of whole aircraft: £11 383 (2 night return)
Aircraft Type: Citation XLS
Passengers: 8
Flight Time: 1 hr 38 mins
Call 020 7100 6960 (24 hours) or contact us to book your private jet to Nice
HELICOPTER TRANSFERS FROM NICE TO CANNES
Nice Cote d'Azur Airport - Cannes (Harbour) from €178 pp

Hire of whole helicopter: €890 (one way transfer)
Aircraft type: AS350 single engine helicopter
Passengers: 5
Flight time: 9 mins
Call 020 7100 6960 (24 hours) or contact us to book your helicopter transfer