THE OPEN GOLF CHAMPIONSHIP: PRIVATE JET CHARTER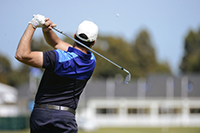 The Open Championship is one of the four major championships in professional golf. It is the only major to be held outside the USA. The Open (sometime referred to as the British Open) is played on the weekend of the third Friday in July.


Nine courses in Scotland and England rotate to host the event and a global audience will fly in to witness the world's top golfers compete for the Open title, the most historic accolade in the sport.

For private jet charter prices and advice call our 24 hour team on 020 7100 6960. Or see instant estimate flight prices online by using our flight search:
PRIVATE JET TO THE OPEN GOLF CHAMPIONSHIP: ESTIMATE PRICES
London Biggin Hill - Liverpool - London Biggin Hill from £3 900 (day return)
Aircraft type: Beechcraft King Air
Passengers: 8
Flight time: 1 hour 50 minutes
HOW TO BOOK PRIVATE FLIGHTS TO THE OPEN GOLF CHAMPIONSHIP
For advice on private jet or helicopter charter to The Open Golf Championship contact us or call 020 7100 6960.