Prague By Private Jet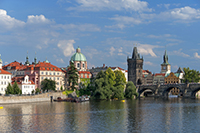 The historic city of Prague is located in the middle of Europe. The capital of the Czech Republic, Prague is a popular city destination for both private leisure and business aviation travellers.

Combining ultra-modern corporate offices with beautifully-restored Baroque buildings and cobbled old town, Prague is a compelling city full of cultural and contemporary pleasures.

For private jet charter flights to and from Prague call PrivateFly on 020 7100 6960 or contact us.
PRIVATE JET AIRPORTS IN PRAGUE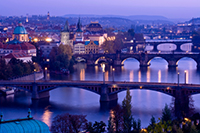 Prague has 3 airports for private jet travel, offering a choice of 24 hour access points to the city and surrounding areas:

1. Prague Vaclav Havel airport by private jet
Prague's main international airport is also the most popular for private jet travelers, just 10km to the north west of the city centre. Vaclav Havel airport has two dedicated private jet terminals (FBOs).

2. Vodochody Airport by private jet
Used exclusively for private jets and general aviation, Prague Vodochody airport is located 15km to the north of Prague. The airport site is also home to a Czech aerospace comapny, Aero Vodochody.

3. Prague Kbely airport by private jet
The original airport site in Prague, Kbely is now operational only for private aviation flights, and is also the site for the military aviation museum. Prague Kbely airport is situated 8km to the north-east of the city centre.
PRIVATE JET ESTIMATE PRICES TO PRAGUE
For bespoke private jet pricing to or from Prague call PrivateFly on 020 7100 6960 or contact us.
London - Prague - London (2 night return) from £ 6 690
Aircraft: Citation Mustang
Seats: 4
Flight time: 1 hr 55 mins
Paris Le Bourget - Prague - Paris Le Bourget (2 nights return) from € 8 226
Aircraft: Cessna Citation I
Seats: 6
Flight time: 1 hr 35 mins
Moscow - Prague - Moscow (2 night return) from € 15 840
Aircraft: Cessna Citation CJ3
Seats: 6
Find a price for your Prague flight from any airport using our Quick Quote search cost calculator