PrivateFly Airport Poll Judges
Each year, PrivateFly runs their "best airport approaches poll" to discover your favourite airport approach. Last year's favourite airports included beach runways, mountain-top airports and airports approaches across stunning city skylines.
This year, PrivateFly asked a panel of expert judges from across the travel industry to nominate their favourite airport approaches for the airport poll.

Sylvie Peron
Sylvie Peron is Editor in Chief of Altitudes Europe, a leading luxury lifestyle magazine for the private aviation industry. 

Part of the LuxMedia group, Altitudes is read by private jet owners and enthusiasts across Europe.
Sylvie's Favourite Airports
Courchevel
Grand Canyon West
Las Vegas McCarran

CAROL CORK
Prior to launching PrivateFly as co-founder in 2008, Carol worked in the media, including several roles at Conde Nast. She brings extensive experience and understanding of luxury travel brands.
Carol's Favourite Airports
Rio de Janeiro
St Moritz
Jackson Hole

Tiffany Dowd
Tiffany Dowd is a globally recognized social media influencer for luxury travel know as Luxe Tiffany and Founder & President of Luxe Social Media. www.LUXETIFFANY.com
Tiffany's Favourite Airports
Nice Cote D'Azur
Cape Town
Hong Kong International Airport

Ana Silva O'Reilly
Ana Silva O'Reilly is a 30-something globetrotter who finds her peace and quiet on a long-haul business class flight to somewhere warm. An avid traveler, Ana is also a good daughter, religiously following her mother's motto: "If you leave home, it has to be better" or "I love camping, in 5 star hotels". A city girl at heart, she moved to the quiet English countryside for love, and lives her travel dreams through her award-winning alter-ego and travel blog Mrs. O Around the World.
Ana's Favourite Airports
Skukuza, South Africa
Male, Maldives
New York JFK

Doug Gollan
Doug Gollan is co-founder and founding Editor-in-Chief of Elite Traveler, a luxury magazine distributed on private jets. He is considered an expert on UHNW luxury marketing. He is co-author of "The Sky's the Limit: Marketing to the New Jet Set" and is working on his next book "Sales Superstars: Secrets of Selling to the Super Rich." 

His blog at douggollan.com covers sales and marketing issues related to catering to the wealthy. He is a contributor to Luxury Society and ForbesLife.com. Previously, Doug was Group Publisher of Travel Agent Magazine Group, and he is a member of the Luxury Marketing Council.
Doug's Favourite Airports
Las Vegas McCarran
Los Angeles International
Courchevel

David Scowsill
David Scowsill is President and CEO of the World Travel & Tourism Council (WTTC). Previously he has held senior, global roles at some of the biggest names in travel and aviation. David has been CEO of Opodo; Vice Chairman, Worldhotels; Senior VP Sales, Marketing & IT at Hilton International; Managing Director EMEA at American Airlines; Regional General Manager Asia/Pacific at British Airways and Sales & Marketing Director at EasyJet airlines.
David's Favourite Airports
Juancho E Irausquin Airport
Hamilton Island
Daocheng Yading Airport

Chloe Pantazi
Chloe Pantazi is an editorial assistant for Thrillist Travel, where she has written about everything from nude beaches to what the TSA confiscates from passengers' carry-on bags. She lives in New York City via the UK, and has spent every summer of her life in Cyprus, where her family is from.
Chloe's Favourite Airports
Vancouver, Canada
London City, UK
Kastellorizo, Greece

Benet Wilson
Benet J. Wilson is the co-editor of AirwaysNews.com and a freelance aviation/travel journalist. She is the Air Travel Expert for About.com and writes the AviationQueen.com blog covering aviation and travel topics. She has also worked in communications and public relations for two airlines and an aircraft engine manufacturer. She is an Air Force brat and is working on her private pilot's certificate.
Benet's Favourite Airports
St. Maarten
Telluride
London City Airport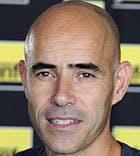 Frederic Beniada
Aircraft and mountain pilot, Frederic Beniada, is an aviation journalist on France Info and France Inter. He is the organizer of the 100/24 challenge, which aims to develop the French airport network. The official commentator at air force shows and a marathon runner, Frederic Beniada has written numerous works, including Concorde, Boeing 747, and Falcon 7X.
Frederic's Favourite Airports
London City
Courchevel
Los Angeles International Airport

Adam Twidell
Adam is the CEO and co-founder of PrivateFly. After 10 years as a RAF pilot, Adam moved to flying private jets before starting PrivateFly, and has enjoyed a variety of airplane approaches around the world as both an airplane pilot and passenger.
Adam's Favourite Airports
Gibraltar
Barra
Billy Bishop Toronto City

Paul Johnson
Paul is editor of A Luxury Travel Blog, one of the most popular travel blogs in the world. He has worked in the travel industry for more than 25 years and has travelled extensively, from his home in Kendal, Cumbria (UK) to places all over the world.
Paul's Favourite Airports
Grumeti Airstrip
Cape Town International Airport
Islay Airport

Joe Sharkey
Joe Sharkey, a veteran journalist and author, wrote the weekly business travel column in the New York Times for 16 years. He is now working on a novel series about the adventures and exploits of an international business traveler who hates to travel. He lives in Tucson.
Joe's Favourite Airports
Saba's Juancho E. Yrausquin
Malta's Luqa International Airport
LAX

Jeremy Dwyer Lindgren
Jeremy Dwyer-Lindgren is a photojournalist and aviation reporter based in the Seattle area, not that he's there too often. His work has appeared in everything from blogs to the BBC, local news to USAToday. An avid traveler, Jeremy specializes in aviation and travel, spending as much time as he can on the road and in the air. Look him up on JDLMultimedia.com
Jeremy's Favourite Airports
Paro Bhutan
Reagan National
Cordova Merle Mudhole Smith Airport in Cordova Alaska

Ross Atkinson
Chief Content Officer, Intermedia Travel Group, Business Traveler Magazine - Accomplished business leader with 24 years experience, 17 of which developing new models in software, services and delivery in the travel industry. As co-founder, Intermedia Travel Group is that latest venture that combines new and traditional product, marketing and media solutions to Business Travel communities of both managed and the individual business traveler. Intermedia Travel Group operates Business Traveler, the leading publication for the frequent business travelers and a brand that embraces thought leadership that drives progress, innovation, and value for hi-flyers and travel suppliers alike.
Ross's Favourite Airports
Tocumen International Airport; Panama City
El Dorado International Airport; Bogotá, Columbia
Reagan National Airport (DCA); Washington, D.C.

Seth Miller
Seth Miller was bitten by the travel bug at a young age and hopes that no one finds a cure. A world traveler turning 150,000+ miles annually, no adventure is too far, to long or too crazy. Seth is an expert in the field of airline loyalty programs and an analyst of the IFEC market.
Seth's Favourite Airports
Queenstown, New Zealand
St. Barts, St Barthelemy (French overseas territory)
Amsterdam Schipol, Netherlands

Jason Rabinowitz
Jason (@AirlineFlyer) is the #AvGeek Data Research Manager at Routehappy, tracking all things related to the passenger experience, and contributing travel writer for Forbes and Airline Reporter.com
Jason's Favourite Airports
LaGuardia, New York
Aspen
Nadi, Fiji

John DiScala
He also works with travel-related companies – both start-ups and well-established – to help them understand and leverage loyalty programs as partners and as a means to alter customer behavior.
John's Favourite Airports
Queenstown
Nice Cote D'Azur
LAX

Lee Abbamonte
Lee Abbamonte is the youngest American to visit every country in the world. He's visited 318 total countries and is one of the world's most-traveled people. Lee is a successful entrepreneur, travel television personality, speaker, travel writer, travel expert and global adventurer who recently made it to the South Pole. Lee appears regularly on air on Fox News, Bloomberg, HLN, Travel Channel, NBC, ABC, CBS, CNN amongst others. Lee has also been featured in the New York Times, Washington Post, Chicago Tribune, Conde Nast Traveler, Huffington Post, Yahoo, Today and many others. Lee is a fellow of the Royal Geographical Society and a member of the Travelers Century Club. He's also a sports fanatic and loves the New York Yankees. Lee lives in New York City when he's not traveling the world!
Lee's Favourite Airports
Ice Runway, Antarctica
Paro, Bhutan
Aitutaki, Cook Islands

Rupa Haria
Rupa Haria is editor-in-chief of leading aerospace website AviationWeek.com, where she oversees digital content development and audience engagement for a number of publications in the Aviation Week Network. She previously worked at London City Airport and has lived in Gibraltar and the Maldives, giving her the opportunity to regularly experience some of the world's best airport approaches.
Rupa's Favourite Airports
Male, Maldives
Cape Town
Gibraltar

Paul Brady
Paul Brady is a senior editor at Condé Nast Traveler, with a focus on the strategies that help consumers have better trips. He has been covering the travel industry for nearly 10 years, at Condé Nast Traveler, The Huffington Post, Budget Travel, and other outlets. He graduated from the S.I. Newhouse School of Public Communications at Syracuse University.
Paul's Favourite Airports
Mataveri International Airport
Venice, Italy
Courcheval, France

James Wynbrandt
Author and journalist James Wynbrandt writes for many aviation publications covering events around the globe from Shanghai to Dubai, and he has flown his Mooney M20K 252 on assignments throughout North and Central America. His work has also appeared in The New York Times, Barron's, Forbes and Fortune, and his ten books span genres including history, business, popular music, political humor and medical science.
James's Favourite Airports
Aspen-Pitkin County Airport
Staniel Caye Airport (TYM), Bahamas
Santa Monica Municipal Airport (SMO), USA

Christine Negroni
Christine Negroni is an aviation writer and commentator and very frequent traveler. Her work appears primarily in The New York Times but she is also a contributor to many other publications especially those that begin with the letter "A" including, Air & Space, Airways and ABC News. Her book on the disappearance of Malaysia 370 and other aviation mysteries will be published by Penguin in 2016.
Christine's Favourite Airports
Reagan National Airport Washington, D.C.
Juancho E. Yrausquin Airport Saba Dutch Antilles
Madeira Airport Funchal Santa Cruz, Madeira
For private jet charter advice and prices call our 24 hour expert Flight Team on {{telephone}} or search for instant estimate prices from your local airport using our flight search: