Top 10 private jet routes from Paris
Paris Le Bourget is the busiest private jet airport in Europe. Dedicated exclusively to private aviation, Le Bourget airport is situated next door to the scheduled airline hub of Charles de Gaulle airport.
For private jet charter advice and prices to or from Paris call our 24 hour expert Flight Team on 020 7100 6960 or search for instant estimate prices from your local airport using our flight search:
Year round, Paris Le Bourget takes the top spot as the most popular private jet airport in Europe. With over 48,000 private flights per year, the 24 hour airport sees, on average, six private jet take-offs and landings every hour. Paris Le Bourget Airport by private jet.

It's undoubtedly the most important private jet hub in Europe, but who exactly is flying in and out? By analysing latest European data* for all flight movements, PrivateFly can reveal the top ten private jet destinations flying to and from Paris Le Bourget airport.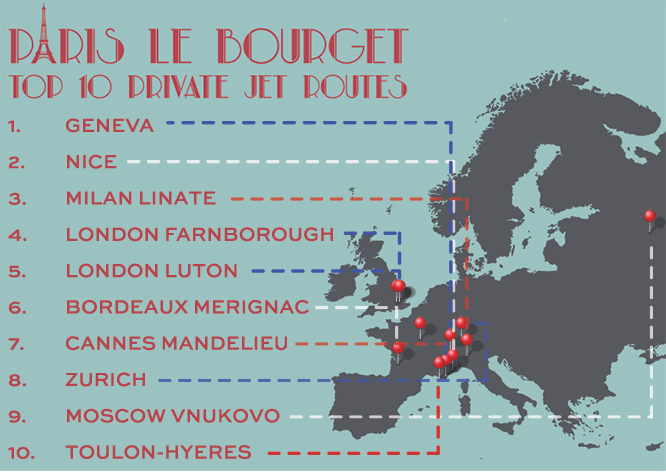 1. PRIVATE JETS BETWEEN GENEVA & PARIS
The runaway winner is Geneva, proving a key private jet route between the two financial and tourism centres, year-round.

Average flights per month: 236

Popularity year on year: -9%

Private jet pricing: From € 3 670 (Citation Mustang, 4 seats, 55 mins)
2. PRIVATE JETS BETWEEN NICE & PARIS
Nice Cote D'Azur is in second place, especially popular in the summer months and showing year-on-year growth.

Average flights per month: 125 flights

Popularity year on year: +4%

Private jet pricing: From € 5 900 (Phenom 100, 4 seats, 1 hr 15 mins)
3. PRIVATE JETS BETWEEN MILAN LINATE & PARIS
A key routing between two of Europe's most important fashion and business capitals.

Average flights per month: 125 flights

Popularity year on year: +4%

Private jet pricing: From € 5 590 (Citation I, 6 seats, 1 hr 15 mins)
4. PRIVATE JETS BETWEEN LONDON FARNBOROUGH & PARIS
Farnborough airport is the most popular of London's private jet airports, when it comes to flying to and from Paris Le Bourget, and it's also the fastest growing.

Average flights per month: 79 flights

Popularity year on year: +8%

Private jet pricing: From € 3 540 (Citation Mustang, 4 seats, 50 mins)
5. PRIVATE JETS BETWEEN LONDON LUTON & PARIS
Edged into fourth place is Luton Airport. Another of London's private jet airports, Luton offers 24 hour private jet operations.

Average flights per month: 72 flights

Popularity year on year: -4%

Private jet pricing: From € 4 800 (Citation II, 6 seats, 55 mins)
6. PRIVATE JETS BETWEEN BORDEAUX MERIGNAC & PARIS
One of the most famous wine regions in the world, the private jet routing between Paris and Bordeaux is showing significant growth, also reflecting limited connectivity to Bordeaux by scheduled airlines.

Average flights per month: 58 flights

Popularity year on year: +32%

Private jet pricing: From € 4 900 (BE200 King Air, 8 seats, 1hr 30 mins)
7. PRIVATE JETS BETWEEN CANNES MANDELIEU & PARIS
Cannes Mandelieu is the Cote D'Azur's exclusive private jet airport. Private flights to and from Paris are down year-on year but are especially popular during the Cannes Film Festival in May.

Flights per month: 57 flights

Popularity year on year: -11%

Private jet pricing: From € 5 340 (Citation Mustang, 4 seats, 1hr 20 mins)
8. PRIVATE JETS BETWEEN ZURICH & PARIS
The private jet routing between Switzerland's largest city and Paris has dropped in popularity, but is still a strong city-pairing throughout the year.

Average flights per month: 55 flights

Popularity year on year: -15%

Private jet pricing: From € 5 670 (Cessna CJ2, 6 seats, 55 mins)
9. PRIVATE JETS BETWEEN MOSCOW VNUKOVO & PARIS
Moscow Vnukovo and Le Bourget are both dedicated private jet airports. This serves one of the most important business and private wealth routes between Russian and Western Europe.

Average flights per month: 44 flights

Popularity year on year: -15%

Private jet pricing: From € 23 990 (Citation XL, 7 seats, 3 hr 25 mins)
10. PRIVATE JETS BETWEEN TOULON-HYERES & PARIS
Although this route is down versus 2012, this nonetheless shows how Le Bourget is used for private flights to connect with relatively inaccessible locations in France, such as Le Palyvestre Airport in Toulon-Hyeres.

Average flights per month: 37 flights

Popularity year on year: -30%

Private jet pricing: From € 4 260 (Diamond Twinstar, 3 seats, 55 mins)
For private jet flight prices for any global route call PrivateFly on 020 7100 6960 or contact us

* Source: WINGX-Advance.com data, Jan-Jul 2013