Tribal Safari Getaway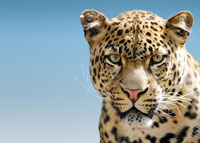 A stunning 4-day tribal safari break to Kenya, made possible by private aircraft charters.
You'll be met at Nairobi's international airport and escorted to your private aircraft for your flight to Sarara Camp, on the Namunyak Tribal Group Ranch in Northern Kenya - one of the world's best luxury tented camps in a tribal community conservation area.
For private jet charter advice and prices for any flight worldwide from our accredited network of aircraft call our 24 hour expert Flight Team on 020 7100 6960 or search for instant estimate prices from your local airport using our flight search:
Sarara enjoys Kenya's best leopard sighting rate by far, plus a host of other resident wildlife including elephant, kudu, giraffe and buffalo.
Here you'll enjoy two days of game drives and observations of tribal community life in the Samburu village.
You'll then fly by private charter to the stunning Laikipia Plateau and Enasoit Camp, one of Kenya's best-kept secrets; a luxury tented camp, built in a rustic style using local materials to blend with the environment and situated directly in front of two waterholes which attract a multitude of wildlife 24 hours a day.
Enjoy walking, horse-riding and game drives, perhaps a helicopter flight - or simply relaxing in the Jacuzzi.
Finally your private aircraft will take you back to Nairobi's Jomo Kenyatta airport for your international departure.
Safari Flights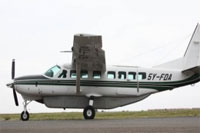 Nairobi - Sarara - Enasoit - Nairobi 4-day break
Aircraft: Cessna Caravan
Passengers: 2
Total cost (including private aircraft charter): $25,185
Cost per person: $12,592
How to charter a safari flight
To charter a light aircraft for safari park flights, or a private flight to Kenya call us on 020 7100 6960 (24 hours) or contact us.
*This is a customised itinerary designed in association with safari travel operator Robert & William Carr-Hartley. Prices are subject to availability at time of booking. Price includes: full board accommodation (double/twin occupancy); entrance fees to parks and reserves; services of professional guides; VIP private charters and transfers within Kenya; activities mentioned above; Flying Doctor membership. Price does not include international flights and VISAs to/from Kenya.