THE PRIVATE JET THAT MONEY CAN'T BUY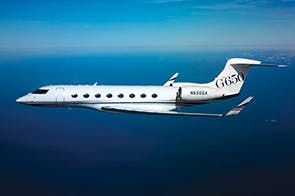 It's the private jet everyone's talking about. Gulfstream's G650 long range jet has a waiting list of three years, even for those able to pay the asking price of $65 million. But private jet booking service PrivateFly.com can help impatient buyers to 'try before they buy' instead, with the aircraft now available to charter in Europe for the first time.

Only around forty G650s - the world's fastest and longest-range business jet - have been delivered since its launch last year. Another 160+ buyers are waiting in line, some of whom will need to wait years before stepping onboard. However with a G650 now available to hire in Europe, PrivateFly says interested parties can fly this summer – if they charter rather than buy.

Last month the aircraft broke the city pair speed record for New York to Mumbai, making the 6,754 nm trip in 13 hours and 49 minutes. It combines optimal speed and range, flying 7,000 nm nonstop at speeds of up to Mach 0.925. The high-tech luxury interior includes a full bar and kitchen and accommodates up to 18 passengers.

The aircraft will attract a premium in the charter market at first, according to PrivateFly. It gives a charter price of EUR 120,000 for London to Dubai, on a two-day return flight. This compares to a cost of around EUR 87,000 for other aircraft in the same category, such as Gulfstream's predecessor the G550, or rival manufacturer Bombardier's Global Express.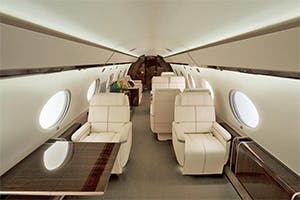 PrivateFly's CEO Adam Twidell comments: "The G650 is creating enormous interest and is the ultimate VIP status symbol, with some very high profile buyers waiting in line to own one. It's in such demand that some have been flipping their jets – trading places in the queue or selling on immediately for a profit – reportedly for as much as $10 million.

"The first European-based G650 has now become available for third party charter, from an operator in our network, based in Switzerland. And there are just a further four charter aircraft based elsewhere in the world, including film director Peter Jackson's - which is also available to hire - based in Wellington, New Zealand.

"These days the majority of private jet customers choose to charter, rather than buy. Owning a jet is a huge financial commitment. For the G650's $65 million price tag alone, you could charter almost 400 return trips from London to Dubai. And that's without taking into account the several million dollars each year in running costs, such as maintenance, fuel, insurance and crew.

"Chartering is also about flexibility. While the G650 can't be beaten over longer distances, it isn't usually the best option for a shorter journey. Bernie Ecclestone sold his just weeks after he received it, saying it was too big to land at some of his favourite airports.

"The G650 will continue to attract a premium in the charter market while its availability is so limited, but there will be those who are prepared to pay this, to experience a flight in this much-coveted jet. Maybe including those still waiting in the three-year buyers queue."

For more information on the Gulfstream G650 see: http://www.privatefly.com/private-jets/longrange-jet-hire/Gulfstream-G650.html
- Ends -