PrivateFly is acquired by Directional Aviation, creating one of the world's largest providers of digital on-demand private jet travel
Within the OneSky family, PrivateFly will join forces with on-demand broker Skyjet
PrivateFly has been acquired by OneSky LLC, a Directional Aviation company. The online booking platform will join forces with OneSky's existing brokerage Skyjet, to create one of the world's largest digital platforms for on-demand private jet charter.
As the first business model to offer private jet booking end-to-end when it launched in 2008, PrivateFly has seen continued high sales growth over the last decade. Initially UK-focused, it has since developed multiple channels and customer bases worldwide, through localised platforms, and a multilingual team. Skyjet has been a pioneer in aviation technology for more than 20 years, with a strong foothold in the US, and offers one of the most popular and highly-downloaded private jet booking apps.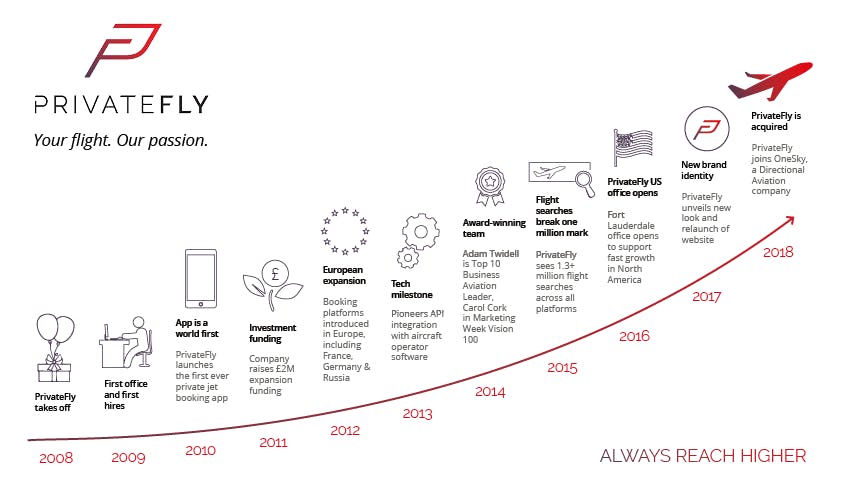 PrivateFly's co-founders Adam Twidell and Carol Cork remain with the company and will lead the combined entity, which will operate offices in both the United States and Europe. They intend to leverage the extensive infrastructure and assets available within the OneSky family of brands, which also includes Sentient Jet and Flexjet.
"We are delighted to welcome PrivateFly to the OneSky and the Directional Aviation family," said Kenn Ricci, Principal of Directional Aviation. "PrivateFly's co-founders, Adam Twidell and Carol Cork, are true innovators who recognised early on how important mobile capabilities and on-demand digital bookings are in the charter space, and they will continue to play a critical role in the company's future. Pairing PrivateFly with Skyjet, OneSky's current digital on-demand charter broker, brings together two unique, innovative companies that are in different geographies to support OneSky's vision of a world-leading on-demand charter operation."
Adam Twidell, co-founder and CEO of PrivateFly commented: "We are proud to be joining OneSky, part of Directional Aviation, which incorporates every aspect of the private aviation industry in a way that no other company can. This is a key strategic moment for PrivateFly that opens up new opportunities for our loyal and growing base of globe-spanning users, leveraging the power not only of Skyjet but also of the other OneSky companies."
Andrew Collins, the President of OneSky's on-demand private jet charter organisation Skyjet and jet card provider Sentient Jet added: "With this transaction, and the combination of PrivateFly and Skyjet, we are realising the digital part of OneSky's vision in the on-demand charter space. Nobody provides instant private jet travel at the touch of a button with this degree of expertise, allowing people to travel in the way that best meets their needs."
-Ends-
Notes to editors 

About PrivateFly:
PrivateFly is a global booking platform for private jet charter, making it faster, easier and more cost-effective to compare and book private jets. With over 7000 aircraft integrated worldwide, PrivateFly combines innovative technology with its team of aviation experts, available 24/7.
PrivateFly holds both Argus Certified Broker and Wyvern Broker status, industry best practice accreditations. The company's fast growth has been recognised by a number of award programs including the Financial Times FT1000, The Sunday Times Tech Track 100 and SME Export Track 100.
About Directional Aviation and OneSky:
Directional Aviation Capital is a private investment firm whose singular focus is private business aviation. Combining strategic aviation ownership, unmatched experience and revolutionary vision, Directional continues to innovate and reshape private aviation. Directional's unique industry expertise enables them to quickly understand business aviation companies and provide the financing and operational strategy needed to take advantage of evolving market opportunities.
Many of the world's leading private aviation companies are proud to be part of our family. Directional's OneSky portfolio of private jet travel providers includes shared ownership/fractional jet ownership, jet card, membership and on-demand charter providers. Industry leaders representing MRO, private jet remanufacturing, aviation parts distribution and more also make up the Directional family. Directional Aviation is charting the course of private aviation, worldwide. For more information, visit www.directionalaviation.com.
About Skyjet:
Founded in 1997, Skyjet revolutionized private jet charter after pioneering the industry's first on-demand online booking for private jets. Headquartered in Massachusetts, Skyjet is a leading provider of on-demand private jet charters, providing clients with the industry's most efficient means of accessing private jet travel. Skyjet provides a superior solution for travelers seeking a simple, on-demand private jet charter option and a seamless booking experience. Clients have instant access to a custom fleet of aircraft as well as a fully certified jet collection through an extensive network of Skyjet approved operators. A team of dedicated aviation experts focused on exceptional service play a critical role in every Skyjet-approved trip. Skyjet's sole focus is on private jet charter customers, and it offers them convenience, security, and overall peace of mind - in short, expertise on demand. Skyjet is part of one of the world's largest aviation portfolios, Directional Aviation. Visit www.skyjet.com to learn more.