HEAVENLY DESCENTS: TRAVELLERS TOP 10 AIRPORT APPROACHES 2013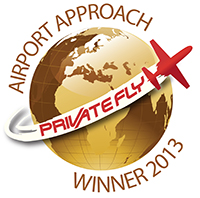 Annual poll by PrivateFly.com reveals travellers' world top ten scenic landings.
Winner is St Maarten: "Literally takes your breath away".
Panel of leading travel experts formed the shortlist.
PrivateFly.com has asked travel fans across the world for their most scenic airport landings in its annual survey*, with the most votes going to the Caribbean island of St Maarten - where aircraft of all sizes land just metres from the beach at Princess Juliana International Airport.
Read full results of the 2013 PrivateFly airport approaches here
Adam Twidell, CEO of PrivateFly.com and a member of the judging panel, comments:
"The top ten is an annual bucket list for air travel fans, giving a fascinating mix of global descents to fly before you die. From major city views such as London City and Los Angeles; to tiny remote airstrips such as Phinda in South Africa, where aircraft land in the middle of a game reserve. Or the tidal beach runway on the Isle of Barra, in Scotland's Outer Hebrides, last year's winner."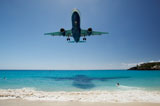 "St Maarten is a truly exhilarating landing and a well-deserved winner. The approach begins over an expanse of blue Caribbean, coming in so low and close to the beach you can almost read the sunbathers' newspapers below. It literally takes your breath away."

This year the private jet booking service teamed up with a number of major names in the travel industry to form the shortlist. Judge Patrick Jephson, aviation writer and former private secretary to Diana Princess of Wales, nominated St Maarten for the poll, commenting: "Landing among the sun-loungers. Always a thrill."

The panel of travel experts also included: Tatler travel editor Francisca Kellett; Matthew Stibbe of Forbes; and Graham Boynton, ex-Telegraph Travel Editor and Conde Nast Traveler (USA). Each judge chose their top three landings, which then formed the shortlist for the public vote.

Regina LeBega, Managing Director of St Maarten's Princess Juliana International Airport comments as follows: "We are very excited to have been chosen as the world's most stunning landing. This recognition comes as we celebrate the 70 th anniversary of the airport, so it is a most welcome birthday gift.

"Not only is the landing on our island the most stunning in the world, we offer a first class international airport with an impeccable safety record, which continues to top our priority list."
The full top ten is as follows:
1. St Maarten Princess Juliana International Airport (SXM), Caribbean

2. Barra Airport (BRR), Scotland.

3. Los Angeles International Airport (LAX), USA

4. Paro (PBH), Bhutan

5. Las Vegas McCarran Airport (LAS), USA

6. Phinda Airstrip, Kwazulu Natal, South Africa

7. London City Airport (LCY), UK

8. Aruba Queen Beatrix International Airport (AUA), Lesser Antilles

9. Mustique Airport (MQS), St Vincent & The Grenadines

10. Nice Cote D'Azur Airport (NCE), France
-Ends-
Notes to editors:

*The PrivateFly.com Airport Approaches poll was conducted in December 2012 on PrivateFly.com. Results were generated by PrivateFly website users and from social media invitations across a range of global sites. 1711 votes were received in total, with 83 different airports receiving a nomination.

To see full details of the results, including images of all ten landings on the list see
www.privatefly.com/airport-poll/PrivateFlyAirportPollResults.html. Images are also available on request.