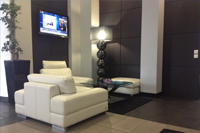 Advanced Air Support, located in Hangar 5 at Paris Le Bourget Airport provides private jet customers with a wide range of services and amenities.

The FBO features multiple VIP lounges equipped Wi-Fi, satellite TV and video-projection systems. Advanced Air Support's facility also includes a VVIP lounge, with private access and ensuite bathroom.

Advanced Air Support's three en-suites are unique to this FBO, fully fitted with Wi-Fi and satellite TV. Each bathroom features a bespoke decoration, offering inspiring views over the hangared aircraft.

The hangar can accommodate a wide range of jets, ranging from the agile Cessna Citation Mustang to the ultra long range Bombardier Global Express. Exterior ramp space can cater for the largest of VVIP corporate airliners such as the Boeing 747.

Other services offered at Advanced Air Support include dry cleaning, secure parking and meditation/prayer facilities. For private jet users with hectic schedules, Advanced Air Support's VIP lounges are decorated in a modern contemporary high-end style.

For private jet flights using Advanced Air Support at Paris Le Bourget Airport call PrivateFly on 020 7100 6960 (24 hours) or contact us.