St Gallen Airport - Private Jet Charter
Overview summary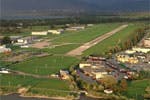 The picturesque St. Gallen-Altenrhein Airport is located next to Lake Constance, with views over the Alps in the Appenzell region in Switzerland.

Its location offers excellent access to destinations in Switzerland, Germany and Austria.
For private jet charter flights from St Gallen Airport call PrivateFly on +44 20 7100 6960 (24 hours).
History | Location | Facts | Flight Prices
St Gallen Flight Prices
Instant estimate private jet prices for St Gallen
Compare the jet charter market
Live availability for private aircraft
Live prices within minutes
24/7 customer service and jet charter advice
All aircraft accredited for safety
Advice on flying to and from St Gallen airport
VIP service as standard
Find an price for St Gallen private jet charter on any route using our Quick Quote cost calculator
St Gallen Airport History
An airfield at St Gallen opened in 1927 with a 600 metre runway. During World War II St Gallen was used for military purposes.
In 1979 the runway was paved and extended to 1500 metres. During the 1980s the airport was used for scheduled flights to Vienna, and in 1988 a passenger terminal was built.
St Gallen Airport Location
St Gallen Airport on the border of Austria, Germany and Switzerland, overlooking the south shore of Lake Constance.
St Gallen Airport Facts
Airport Codes: ACH / LSZR
Elevation: 1306 feet
Runway length: 1500 metres (4921 feet)
St Gallen Airport has the facility for passengers to drive to the steps of their private jet (available on request, and subject to airport approval.

The airport has a business lounge and conference rooms in the private jet terminal and catering is available.
Private Jet Charter Prices - St Gallen Airport
Find private flight prices online for private jet charter to or from St Gallen Airport with our private jet cost calculator.
For a personalised quote or further information please contact us or call +44 20 7100 6960 (24 hours).