Athens International Airport by Private Jet
Overview summary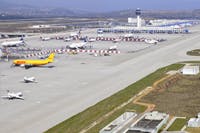 Athens International Airport, which is also known locally as Eleftherios Venizelos, is a relatively new airport serving the city of Athens, Greece. The airport replaced the old Athens Ellinikon Airport in 2001 and now serves more than 15 million travellers annually.

For Private jet hire to or from Athens International Airport call PrivateFly on
+44 20 7100 6960 (24 hours).
History | Landing | Location | Private jet charter prices
History
The airport was officially opened in March 2001 and welcomed an Olympic Airlines flight from Montreal as its first arrival. The construction project took a total of 5 years and cost 2.1 billion euros. The airport has two passenger terminals and two parallel runways, both approximately 2.5 miles in length.

The airport can currently handle up to 65 take offs and landings per hour. The airport has proved very popular with passengers, due to its modern design; consequently in 2005, the airport was a warded the Skytrax award for the best airport in southern Europe for two years running.

The airport was designed to be upgraded in future years to accommodate the increasing traffic levels. This expansion project will take place in a six phase framework which will eventually see the total annual passenger capacity increase to 50 million.
Landing at Athens International Airport
Athens International Airport Location
The airport is located in the region of Attica, 35 km south east of Athens city centre. The city is easily accessible from the airport via Attiki Odos/ Route 62. This journey normally takes around 40 minutes.
Athens Airport Facts
Latitude: 37°56'11"N
Longitude: 23°56'40"E
Elevation: 308 ft (94 m)
Runways: 2, Longest: 13123 × 148 ft (4000 × 45 m), paved
Private jet charter prices
Find private flight prices online for private jet charter to or from Athens International Airport with our private jet cost calculator.