EuroAirport Basel-Mulhouse-Freiburg by Private Jet
Overview summary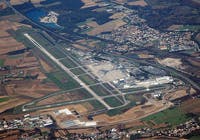 EuroAirport Basel is home to the world's leading corporate aviation services companies, AMAC Aerospace, Jet Aviation and Air Service Basel, with facilities capable of providing maintenance up to Airbus A380 and Boeing 747 size.

EuroAirport Basel-Mulhouse-Freiburg as it's officially known is situated 10km north of the Swiss city Basel, on the border between France and Germany. The airport itself is located in French territory and is shared between the three countries.

For private jet charter or helicopter flights from EuroAirport call PrivateFly on +44 20 7100 6960 (24 hours).
History | Landing at EuroAirport Basel-Mulhouse-Freiburg | Location | Facts
History
Basel Mulhouse Airport – as it was originally known, was opened after the Second World War in 1946. Now rebranded as the 'EuroAirport', this hub is shared by 3 cities in 3 different countries, Basel in Switzerland, Mulhouse in France and Freiburg in Germany.

As air traffic into EuroAirport increased in the fifties, a second intersecting north/south runway was built - which at 3900m was one of the longest runways in central Europe. Today it is used as the main runway, accommodating large private airliners like the Boeing 747-400 and Airbus A340-600 which are serviced at one of the many completion centres.
Landing at EuroAirport Basel-Mulhouse-Freiburg
EuroAirport Basel-Mulhouse-Freiburg Location
ICAO/IATA: MLH/LFSB
Lat: 47° 35' 24.00" N
Long: 7° 31' 45.00" E
Elevation: 885ft (270m)
Runway length available: 3900m (12795ft)
EuroAirport Basel-Mulhouse-Freiburg Facts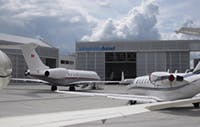 Air Service Basel is one of three Fixed Based Operators available at EuroAirport. The facility features a VIP lounge, pilot's briefing room and Wi-Fi fitted conference room. Concierge services are also available including limousine arrangements, crew transportation, fuel support and immigration clearance.

Air Service Basel's 5,000m² hangar is able to accommodate aircraft up to the size of Airbus ACJ/Boeing BBJ aircraft, situated in a secure discreet location away from the main passenger terminal complex.

Maintenance facilities at EuroAirport are known worldwide for outstanding levels of service and attention to detail. AMAC Aerospace founded in 2007 has become one of the world's leading providers of corporate aviation services for private jets.

AMAC Aerospace provide maintenance, refurbishment and aircraft completion services, with the ability to install or refit the interior of any private jet from bare metal fuselage to a fully completed cabin of pure luxury.

Located south of the main runway at EuroAirport's expansion zone, AMAC has three brand new hangars which can accommodate multiple wide and narrow-body aircraft. This facility is one of very few worldwide that can accommodate private hangar space for aircraft as large as the Airbus A380 and Boeing 747-400. In total, AMAC possess 21,200m² of hangar space, meaning that business jets and props of every type can be fully supported and serviced.

Jet Aviation Basel, founded in 1967, are the most established completion and maintenance centre located at EuroAirport with 40 years experience. The facility has completed a wide range of projects, from Bombardier Global Express to Boeing 747-400 aircraft.

Specialized in avionics, engineering, refurbishment and paint services, Jet Aviation is another world leading corporate aviation services company factory approved by Airbus, Boeing, Bombardier, Dassault and Gulfstream.

For a personalised quote or further information please contact us or call +44 20 7100 6960 (24 hours).