City Pairs - fixed price private jet charter
PrivateFly's City Pairs are fixed and exclusive private jet charter prices on specified routes, using our family fleet aircraft operated by our parent group Directional Aviation, and a range of other Super Midsize+ aircraft from our preferred operator suppliers.
If you're looking for an estimate price for any global itinerary by private jet charter, try our online flight search tool or contact our team (24/7) for advice or pricing on 020 7100 6960.
Private Jet City Pairs
| CITY PAIR (EITHER DIRECTION) | AIRCRAFT TYPE | PRICE |
| --- | --- | --- |
| London - Dubai | Super Midsize+ | €47,000 (£41,700) |
| Geneva - Dubai | Super Midsize+ | €41,000 (£36,400) |
| Moscow - Dubai | Super Midsize+ | €43,000 (£38,100) |
| Paris - Dubai | Super Midsize+ | €44,000 (£39,000) |
| London - New York | Super Midsize+ | €59,750 (£53,250/$72,500) |
PrivateFly City Pairs route map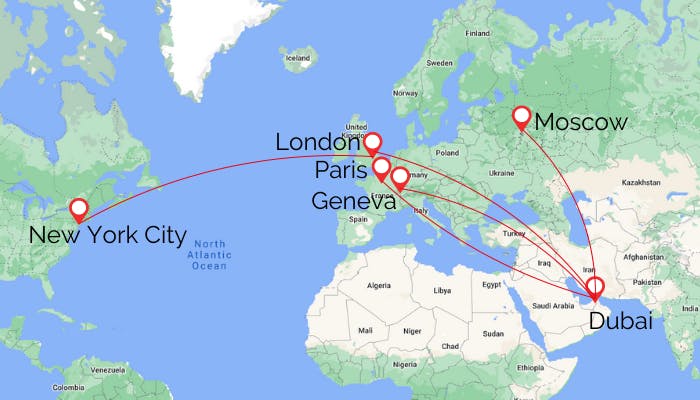 Super Midsize+ Aircraft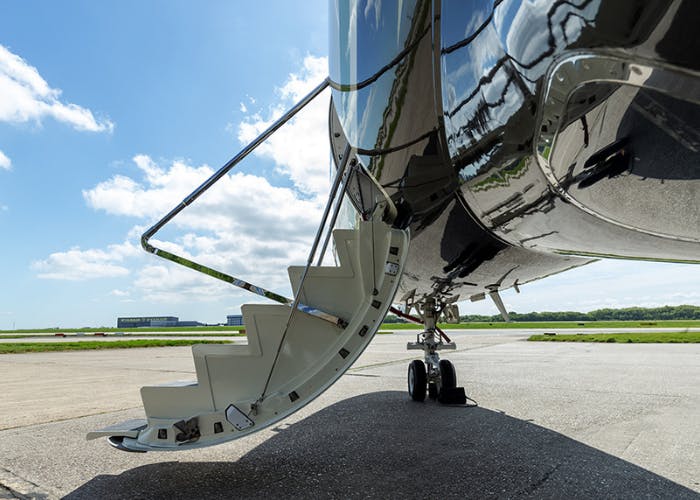 The City Pairs rates above are based on flights on safety and service accredited Super Midsize+ aircraft from PrivateFly's family fleet and preferred operator suppliers in our global network -  such as the Praetor 600, Challenger 350, Legacy 500 and Legacy 650.

These are comfortable private jet aircraft and ideal for longer flights, with spacious cabins, private restrooms and galley facilities that allow a wide range of VIP catering options onboard. 
City Pairs must be booked at least 14 days in advance to guarantee the fixed rates shown above. Prices are one way and in either direction, a return price can be quoted on request. Prices are based on Euros price and subject to currency rate change. GBP & USD prices are estimates based on conversion rates from Euros in January 2021. Flights may be scheduled as direct (non-stop) or required to make a fuel stop, subject to aircraft availability. Prices based on maximum of 6 passengers (Dubai routes) or 8 passengers for London - NYC, a larger aircraft can be quoted on request for bigger groups. Price includes VIP catering. A surcharge may be required to specify a particular London or New York City Airport, with a  surcharge applicable for London Heathrow, London Gatwick and New York JFK. Prices valid until 30 April 2021.