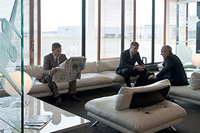 Critically acclaimed as one of the top 10 FBOs in the Eastern Hemisphere, Dassault Falcon Service's FBO accommodates a wide variety of aircraft up to ultra long range jets such as the Gulfstream G650.

With a team of dedicated professionals available 24/ 7, Dassault Falcon Service's FBO offers an extensive range of flight services to private jet passengers and crew. With unlimited access to a VIP lounge with direct views of the airport's runways, passengers can dine in a quiet, confidential and comfortable environment.

Operating since 1967, Dassault Falcon Service offers an extensive suite of maintenance, management and technical services for Falcon business jets, supplying dedicated ramp services ready to support private jet passengers arriving or departing the French capital city, Paris.

FBO facilities include a VIP bar, conference room, interactive entertainment system, a guarded private car park and specialist ramp services dedicated to Dassault Falcon business jets.

For private jet flights using Dassault Falcon Service at Paris Le Bourget Airport call PrivateFly on 020 7100 6960 (24 hours) or contact us.