Fairoaks Airport - Private Jet Charter & Helicopter
Overview summary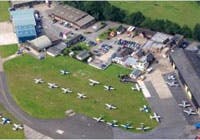 Fairoaks Airport is a private airfield, located in Surrey - southwest of London.

The location offers an excellent charter option for small props, small jet and helicopter flights going to and from London.

For private jet charter from Fairoaks Airport call PrivateFly on +44 20 7100 6960 (24 hours).
History | Location | Facts | Flight Prices
Private Jet Charter Prices Fairoaks
Instant estimate private jet prices for Fairoaks
Compare the jet charter market
Live availability for private aircraft
Live prices within minutes
24/7 customer service and jet charter advice
All aircraft accredited for safety
Advice on flying to and from Paris airports
VIP service as standard
Find an price for Fairoaks private jet charter on any route using our Quick Quote cost calculator
Fairoaks Airport History
Fairoaks Airport originally opened as a private airfield in 1931, but was used for military flights and Tiger Moth pilot training during World War II. During the 1960s the airport was bought by a helicopter operator, and in the late 1970s a hard runway was constructed at Fairoaks, allowing chartered private aircraft to use the airport.
Fairoaks Airport Location
Fairoaks Airport is located just outside the village of Chobham, near Woking in Surrey.

Fairoaks Airport is approximately 1 hour from the centre of London by car, close to theM25 / M3 motorway junctionand is an excellent option for helicopter transfers to locations in and around London.
Fairoaks Airport Facts
Airport opening hours can be extended by prior agreement from the airport to 0700-2200
Call sign: EGTF/ATC
Lat: 512088N
Long: 003332W
Elevation: 0ft
One runway with a landing distance of 812m (2667ft).
At Fairoaks Airport your car can be driven to the steps of your private aircraft, which makes Fairoaks ideal for customers looking for extra privacy on their private jet flight.

Additional facilities include:
· Customs
· Limousines
· Car hire
· Cafe with Viewing Area
· Conference and meeting rooms with catering
· Fixed Wing and Helicopter Flight Training
Private Jet Charter Prices - Fairoaks Airport
Find private flight prices online for private jet charter to or from Fairoaks Airport with our private jet cost calculator.
How to charter a flight from Fairoaks Airport
For a personalised quote or further information please contact us or call +44 20 7100 6960 (24 hours).