Florence Airport by private jet
Overview summary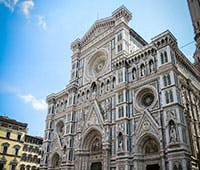 Florence Airport (also known as Peretola Airport and Amerigo Vespucci Airport) is an international airport serving the Italian city of Florence.

It also serves visitors to the popular Italian region of of Tuscany.

For private jet hire to or from Florence Airport call us on 020 7100 6960 (24 hours).
History | Landing | Location | Facts
PRIVATE JET CHARTER PRICES – FLORENCE AIRPORT
See typical private jet charter pricing below for popular private jet routes to Florence Airport.

Search for pricing for your itinerary using our Flight Search. Or for personalised pricing and advice on private jet or helicopter charter to or from Florence Airport, contact our Flight Team (24 hours) on +44 (0) 20 7100 6960.

London Luton – Florence – London Luton (3 night return)
Aircraft: Cessna 510 Mustang
Seats: 4
Flight Time: 2 hrs 15 mins
Charter Price: £8 190 / €9 850

Paris Le Bourget – Florence – Paris Le Bourget (3 night return)
Aircraft: Beech BE90 King Air
Seats: 6
Flight Time: 2 hrs 30 mins
Charter Price: £7 360 / €8 850

Aircraft: Gulfstream G200
Seats: 8
Flight Time: 8 hrs 15 mins
Charter Price: $98 300 / £74 000
FLORENCE AIRPORT HISTORY
Peretola Airport, as it was known then, was created and opened in the early 1930s, initially as a large field where aircraft took off without clear direction. But later in the 1930s, it was enlarged and a proper asphalt runway was built.

The first passenger flights were introduced at the airport in the early 1940s, and Alitalia introduced domestic routes, connecting Florence with Rome, Venice and Milan in the 1950s and 1960s.

A redevelopment project took place in the 1980s, lengthening the runway, introducing lighting and navigation systems, and rebuilding the airport terminal.

In 1990 the airport was officially named after Italian cartographer Amerigo Vespucci and further development of the runway and airport buildings were undertaken over the following years, to support the significant growth in pan-European air traffic. It is now owned by Toscana Aeroporti S.p.A, which also owns and manages Pisa Airport.
LANDING AT FLORENCE AIRPORT
FLORENCE AIRPORT LOCATION
The airport is located 9km north-west of the city of Florence, taking approximately 20 minutes to travel the journey from the city centre by car.
FLORENCE AIRPORT FACTS
Florence Airport has a private lounge (FBO) and facilities for private jet customers and crew using the airport.
Airport code: FLR / LIRQ
Lat: 43.81 N
Long: 11.203889 E
Elevation: From 124.67 to 137.79 ft / from 38 to 42 m
SEARCH FOR PRIVATE JET PRICES ONLINE - NICE CÔTE D'AZUR AIRPORT
Find private flight prices online for private jet charter to or from Florence Airport with our private jet cost calculator.