Gibraltar Airport - Private Jet Charter & Helicopter
Overview summary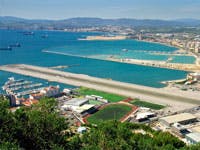 Gibraltar's airport is just 500 metres from the city centre, passengers can shop, have lunch or continue their business meeting, before walking across to board their waiting private jet.

Set against a backdrop of the famous Rock of Gibraltar, Gibraltar airport has an additional unusual feature. One of the territory's main roads actually crosses the runway. Pedestrians and cars are stopped on either side of the runway everytime an aircraft takes off or lands.

For private jet charter or helicopter flights from Gibraltar Airport call PrivateFly on +44 20 7100 6960 (24 hours).
History : Watch approach video : Your views : Location : Facts : Flight Prices
Gibraltar Flight Prices
Instant estimate private jet prices for Gibraltar
Compare the jet charter market
Live availability for private aircraft
Live prices within minutes
24/7 customer service and jet charter advice
All aircraft accredited for safety
Advice on flying to and from Paris airports
VIP service as standard
Find an price for Gibraltar private jet charter on any route using our Quick Quote cost calculator
Gibraltar Airport History
The airport was originally built during World War II to serve the British naval base on the peninsula. The runway was soon expanded across reclaimed land from the bay, using rubble taken from some of the military tunnels running under the Rock of Gibraltar.

The Rock of Gibraltar causes unusual wind patterns on approach and the close proximity of the airport to both the city and Winston Churchill Avenue means that pilots and crew have to undergo special training to take off or land at the airport.

The airport's new terminal was inaugurated in 2012. The existing road will bereplaced by a tunnel running under eastern end of the runway, with building works currently being undertaken.
Landing at Gibraltar Airport
Your views on Gibraltar Airport

In our recent "Favourite Airport Approaches" poll you said:
"Such an exciting place to land. You're always on the edge of your seat on touchdown, with beautiful views surrounding you as you come in to land or take off."
"Three countries, two continents, and where the ocean meets the sea - spectacular!"
"Sheer excitement to land aside a 1500 foot Rock with magnificent views of the continent of Africa upon approach, all while landing in the first and last country in Europe. A truly unique experience!"
Gibraltar Airport Location
A short walk from the centre of Gibraltar, and overlooked by the Rock of Gibraltar, Gibraltar Airport is also used as a gateway to the Costa del Sol and other Spanish regions, as the airport terminal is only a 3 minute walk from the land border with Spain.
Gibraltar Airport Facts
Airport Codes: GIB / LXGB
Elevation: 16 feet
Gibraltar Airport has a runway length of 1777 metres (5828 feet). The runway length is suitable for all private jet charter aircraft from small props to large airliners.
Flights at other times can be arranged, but may be subject to additional airport charges.
Private Jet Charter Prices - Gibraltar Airport
Find private flight prices online for private jet charter to or from Gibraltar Airport with our private jet cost calculator.