Jackson Hole Airport - Private Jet Charter & Helicopter
Overview summary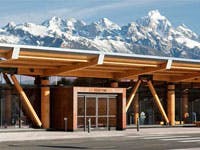 Set against a backdrop of the Teton Mountains, and entirely surrounded by the spectacular scenery of the Grand Teton National Park; it's easy to see why so many passengers and pilots are inspired by the approach to this unique American airport.

For private jet charter or helicopter flights from Jackson Hole Airport call PrivateFly on +44 20 7100 6960 (24 hours).
History | Watch approach video | Your views | Location | Nature | Facts | Flight Prices
Jackson Hole Flight Prices
Instant estimate private jet prices for Jackson Hole
Compare the jet charter market
Live availability for private aircraft
Live prices within minutes
24/7 customer service and jet charter advice
All aircraft accredited for safety
Advice on flying to and from Jackson Hole airport
VIP service as standard
Find an price for Jackson Hole private jet charter on any route using our Quick Quote cost calculator
*Dependent on airport regulations
Jackson Hole Airport History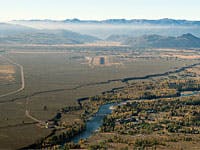 Jackson Hole Airport was built in the 1930s, and just over a decade later was declared a national monument.

As the airport is surrounded by a national park there are noise restrictions; only specific (stage III) jets, which are quieter can land at the airport.

The new terminal buildings were built in 2009, and were designed to work sympathetically with the surrounding area.
Jackson Hole Airport Nature
As the airport is surrounded by a national park, it's inevitable that Jackson Hole Airport has more interaction with local wildlife than many other airports. Sage Grouse are often seen in the airport vicinity (particularly April-October).
Take-off at Jackson Hole Airport
Your views on Jackson Hole Airport

In our recent "Favourite Airport Approaches" poll you said:
"The Grand Tetons are the most spectacular mountain range you will ever see in your lifetime and you get to see them up close and personal when you fly into Jackson Hole. Sunset arrivals and departures and even more amazing!"
"The stunning mountain and Snake River views knowing you on the edge of Yellowstone National Park combined with the spectacular look at the Tetons make this a very special approach."
Jackson Hole Airport Location
Jackson Hole airport is situated in the Grand Teton National Park. The airport is a located 7 miles north of the centre of Jackson town.
Jackson Hole Airport Facts
Airport Codes: JAC / KJAC
Elevation: 6451 feet
Jackson Hole Airport has a runway length of 1920 metres (6300 feet). The runway length is suitable for all aircraft types, but only stage III jets are allowed to land at the airport due to noise restrictions.
There is a dedicated private jet charter terminal at Jackson Hole Airport. The main terminal building has a restaurant.
Private Jet Charter Prices - Jackson Hole Airport
Find private flight prices online for private jet charter to or from Jackson Hole Airport with our private jet cost calculator.
For a personalised quote or further information please contact us or call +44 20 7100 6960 (24 hours).