Zhuliany International Airport by Private Jet
Overview summary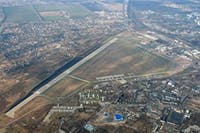 Zhuliany International Airport is situated in the heart of Eastern Europe. The second International Airport serving the Ukrainian capital of Kyiv, Zhuliany is located 20km nearer to the city than Boryspil – the main International Airport of Kyiv.

Medium range jets like the Hawker 800, Learjet 45 and Citation Sovereign are perfectly suited to operating in and out of Zhuliany's short runway, capable of direct flights from Kyiv to London, the Middle East and central Russia.
History | Landing at Zhuliany Airport | Facts | Location
History
Opened in 1923, Zhuliany Airport was initially used by the military with just one commercial operator using the airport, Ukrainian Airways – who were fully integrated with Russian national airline Aeroflot during the Soviet Union.

Zhuliany was the only passenger airport serving the Ukrainian capital up until the 1960s when Boryspil Intentional Airport was built. Featuring a longer runway and larger terminal facilities, Boryspil became the main airport serving Kyiv leaving Zhuliany with domestic traffic only.

In recent years private jet flights into Zhuliany have significantly increased, due to the rising quality of service in aircraft handling and expansion of facilities dedicated to private aviation.

With a runway length of just 1800m, operations out of Zhuliany with long range private jets are slightly restricted. Fully loaded for trips of up to 13 hours, aircraft such as the Global Express and Gulfstream G550 require more than 1800m for takeoff, so ultra long-haul flights are best operated from Boryspil International Airport with its 4000m runway.
Landing at Zhuliany Airport
Facts
ICAO/IATA:UKKK/IEV
Lat: 50° 24' 06.00" N
Long: 30° 26' 59.00" E
Elevation: 586ft (179m)
Runway length available: 1800m (5905ft)
Location
Kyiv Zhuliany International has three Fixed Based Operators located at the airport: Air Link International Ltd, Challenge Aero and ICS handling.

Air Link International Ltd handles a variety of aircraft types from light turboprops to long range executive airliners such as the Airbus ACJ and Boeing BBJ. Services include overflight and landing permits, ramp support, catering facilities, fuel arrangements and customs assistance.