Las Vegas McCarran Airport - Private Jet Charter
Overview summary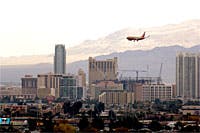 As you fly into Las Vegas Airport the sparkling city appears magically from the desert surrounding it, in a private jet you then fly along "The Strip" to land.

The airport has a terminal exclusively for the use of private aircraft, but if you head into the main terminals of the building you can't miss the 1200 slot machines in the airport.
For private jet charter flights or helicopter flights from Las Vegas McCarran Airport call PrivateFly on +44 20 7100 6960 (24 hours).
History | Your Views | Location | Facts | Flight Prices
Las Vegas Flight Prices
Instant estimate private jet prices for Las Vegas
Compare the jet charter market
Live availability for private aircraft
Live prices within minutes
24/7 customer service and jet charter advice
All aircraft accredited for safety
Advice on flying to and from Las Vegas airports
VIP service as standard
Find an price for Las Vegas private jet charter on any route using our Quick Quote cost calculator
Las Vegas McCarran Airport History
An airfield called Alamo Airport was built on the Las Vegas Airport site in 1942. In 1948 it was renamed McCarran after Senator Pat McCarran, an important figure in US aviation history and the author of the Civil Aeronautics Act.
The airport terminal buildings and runways have been expanded several times, and the airport now has a dedicated private jet terminal. Las Vegas Executive Air Terminal was bought by the Macquarie Infrastructure Company in 2005.
your views on Las Vegas McCarran Airport

"Weather is almost always clear. View is spectacular. Just knowing the fun starts in a matter of minutes raises the anticipation to a level you can't find anywhere else."
"The Las Vegas strip, at night. Awesome view....."
"The Grand Canyon view....then the Strip view...that's just amazing!"
Las Vegas McCarran Airport Location
Las Vegas McCarran Airport is 5 miles south of the centre of Las Vegas.
Las Vegas McCarran Airport Facts
Las Vegas McCarran Airport is open 24 hours for private jet charter flights.
Airport Codes: LAS / KLAS
Elevation: 2181 feet
Las Vegas McCarran Airport's 4 runways offer access to all types of private aircraft including helicopters, small props, long range jets and large airliners.
Private Jet Charter Prices - Las Vegas Airport
Find private flight prices online for private jet charter to or from Las Vegas Airport with our private jet cost calculator.
For a personalised quote or further information please contact us or call +44 20 7100 6960 (24 hours).