Megève Airport (Altiport) by private jet
Overview summary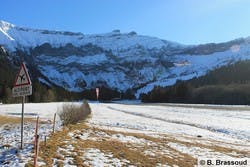 Megève Airport (otherwise known as Megève Altiport) is the gateway to Mont Blanc, the highest point in the Alps.

The short runway at Megève has been ​​inaccessible to commercially chartered aircraft for a long time. But since August 2016, it is now possible to charter a private aircraft to or from Megève, when there is no snow on the runway.

To hire a private jet to or from Megève, speak to our 24-hour Flight Team on +44 (0)20 7100 6960.
History | Watch approach video | Location | Facts | Prices
MEGÈVE AIRPORT HISTORY
The airfield was opened in 1964, initially operated by the airline Air Alpes which used a customised Pilatus PC6, equipped with skis.

Routes to Lyon and Grenoble were then performed with DHC-6 Twin Otter aircraft. But due to the complexity of the approach and the short length of the runway, the French Civil Aviation Authority (DGAC) then banned commercial flights.

In August 2016, this ban was lifted when aircraft operator Alpine Airlines was authorised by the DGAC for commercial private charter to and from Megève, using the agile Vulcanair P-68 aircraft. The runway can only be used when the runway is free of snow. 

To charter a private jet to or from Megève, speak to our 24-hour Flight Team on +44 (0)20 7100 6960..
LANDING AT MEGÈVE AIRPORT
LOCATION
Megève Airport is located 5km south east of the town centre of Megève, at the base of the mountains.

The airport provides access to Chamonix in 40 minutes by car, and the Aiguille du Midi in 45 minutes. The closest major towns are Albertville (40 minutes) and Annecy (1hr 15mins).
MEGÈVE AIRPORT FACTS
Airport code: LFHM /MVV
Latitude: 45°49′25″ N
Longitude: 06°38′57″ W
Altitude: 1 472m
Length of runway: 434m
Access: The airport is not accessible to charter aircraft when there is snow on the ground, but it is now available for private charter flights outside of the winter season.
PRIVATE JET CHARTER PRICES - MEGÈVE AIRPORT