Moscow Sheremetyevo International Airport
Overview summary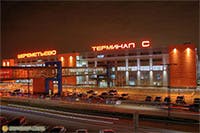 Moscow Sheremetyevo International Airport is one of Moscow's busiest airports.

Moscow Sheremetyevo Airport terminal A is home to its recently constructed business aviation and private jet passenger service. The business jet aviation hangar opened in late 2008.
History
Originally used by Soviet Army's air force Moscow Sheremetyevo Airport was opened in 1959, named after nearby village Sheremetyevsky and the Savelov station.

In 1960 the airport began commercial flights, the first flight was Moscow Sheremetyevo to Berlin's Schonefeld airport.

The airport expanded in the 1970s with the construction of a second runway, following the news that Moscow would host the 1980 Olympic Games. The airport's terminals now house jetways and hotels.

In 2011 plans for further development were approved and are due to complete in 2015.

Moscow Sheremetyevo Airport hit the news spotlight in June 2013, when American National Security Agency fugitive Edward Snowden was reported to be hiding out in the airport's transit area, en route to seeking asylum in Ecuador.
Location
Moscow Sheremetyevo International Airport is located in the north west of Moscow.
Facts
ICAO: SVO
IATA: UUEE
Longitude: 37.415
Latitude: 55.971
Runway: 12139
Private Jet Charter Prices – Moscow Sheremetyevo International Airport
For private jet charter from London Luton Airport call PrivateFly on +44 20 7100 6960 or contact us.