Munich Airport - Private Jet Charter
Overview summary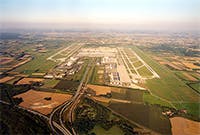 Munich International Airport is situated 28.5 km from the Bavarian state capital of Munich, in the south of Germany.

Known as Flughafen Munchen in German, the airport is named after Franz Josef Strauss, the former Bavarian Prime minister.

Munich Airport is the second busiest airport in Germany behind Frankfurt, and is the 11th busiest private jet airport in Europe, with over 13,000 private jet flights every year.

Munich Airport has three dedicated private jet terminals, or FBOs, which are open 24 hours.

For private jet charter flights to and from Munich Airport call us on 020 7100 6960 (24 hours).
PRIVATE JET CHARTER PRICES TO MUNICH AIRPORT
See typical private jet charter pricing below for popular private jet routes to Munich Airport.

Search for pricing for your itinerary using our Flight Search. Or for personalised pricing and advice on private jet or helicopter charter to or from Munich Airport, contact our Flight Team (24 hours) on +44 (0) 20 7100 6960.

London Luton - Munich - London Luton (3 night return)
Aircraft: Citation Mustang
Seats: 4
Flight Time: 1 hr 48 mins
Charter Price: £11,800 / €11,900

Paris Le Bourget - Munich - Paris Le Bourget (3 night return)
Aircraft: Citation XLS
Seats: 8
Flight Time: 1 hr 8 mins
Charter Price: £15,600 / €18,200

Geneva - Munich - Geneva (3 night return)
Aircraft: Embraer Phenom 100
Seats: 4
Flight Time: 57 mins
Charter Price: £7,900 / €9,100
MUNICH AIRPORT HISTORY
The original airport in Munich was Munich-Riem airport, which served the city between 1939 to 1992.

The current airport site plans began in 1954, and the location was chosen to be at Erdinger Moos. Construction then began on 3 November 1980.

Munich Airport commenced operations on 17 May 1992, and Munich-Riem Airport was closed the day before, then operations switched across.

A second terminal was completed in June 2003 to expand the airport.

Munich Airport's full name is 'Flughafen Munchen Franz Josef Strauss', named after the former Bavarian Prime minister. Strauss was a private pilot, and a former Chairman of the board of Airbus.
MUNICH AIRPORT EXPANSION
The operator of Munich Airport, Flughafen München GmbH, applied for planning permission in August 2007 for a third runway, due to the fact that the two runways are now at full capacity during peak slot times.

The third runway would be located to the northeast of the existing north runway. No decision has yet been made.

Construction to Terminal 2 is also in progress, to allow capacity for handling a further 11 million passengers.
MUNICH AIRPORT LOCATION
Munich Airport is located 28.5km to the north east of the city of Munich, and is situated close to the old city of Freising. The airport site stretches across four different municipalities in Germany, Oberding, Hallbergmoos, Freising and Marzling.
MUNICH AIRPORT FACTS
Airport codes: EDDM/ MUC
Elevation: 1,487ft (453m)
Runways: 2 (08R/26L &08R/26R)
Runway length: 4,000 m (13,123 ft)
Private Jet Terminals (FBOs) at Munich Airport: Signature Flight Support, MAS Munich Aviation Service, EBAS International.