Mustique Airport by Private Jet
Overview summary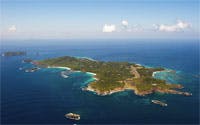 Mustique Airport is the airport to Mustique Island, Mustique is proclaimed as "The world's finest private-island retreat".
Private flights are available to Mustique, but the airport can currently only accept propeller aircraft.
For private flights to or from Mustique Airport call PrivateFly on +44 20 7100 6960 (24 hours).
History | Landing at Mustique | Your views | Facts | Private Jet Charter Prices
History
Mustique became a popular holiday island during the 1960s when Lord Glenconner came up with the concept of a private island holiday.
The airport can only accept propeller aircraft (maximum of 18 seats).
Landing at Mustique Airport
Your views on Mustique Airport

"You feel you might be about to mow the grass on the hilltop as you skim down to the runway - love the arrows reminding the pilot which direction is acceptable."
"You don't see the strip until the wheels are just about ready to hit the tarmac.... and then it's down a slope... what a rush!"
"Coming in on a prop, over lush grounds and Caribbean sea. Absolutely stunning way to begin a retreat on a magical island."
Mustique Airport Location
Mustique Airport is located on the island of Mustique in St Vincent and the Grenadines.
Mustique Airport Facts
Call sign: MQS
Lat: 12.8883
Long: -61.18
Altitude: 3255ft
Runway distance available: 3180ft
Private Flight Prices – Mustique Airport
Find private flight prices online for flights to or from Mustique Airport with our aircraft charter cost calculator.