PRAGUE VACLAV HAVEL AIRPORT - PRIVATE JET CHARTER
Overview summary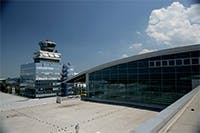 Prague Vaclav Havel Airport is the biggest and busiest airport in the Czech Republic, and is located 10 km from Prague City Centre.

Previously known as Prague Ruzyne International Airport, the airport is an international airport for both private jets and scheduled airlines, and an important hub for Central and Eastern Europe.
Call PrivateFly for private jet charter flights to and from Prague Airport on 020 7100 6960 (24 hours).
PRIVATE JETS AT PRAGUE AIRPORT
Prague Vaclav Havel Airport has two dedicated FBOs (private jet terminals) which offer 24 hour operations for private jet flights to and from Prague.

The two operational runways allow all sizes of private aircraft to take off and land at Prague Airport - from helicopters, turbo props, small and medium jets, long range jets and private airliners.
PRAGUE AIRPORT HISTORY
The original Prague Ruzyne airport began flight operations on 5 April 1937, although Prague Kbely airport (an alternative private jet airport for Prague), opened years earlier in 1919.

The airport was designed by architect Ing.A. Benes, and has won several awards for its technical construction.

On 10 August 1968, Soviet paratroopers seized control of the airport, allowing the invasion of Soviet troops into Czechoslovakia.

The airport was featured in the James Bond Film Casino Royale, but in the film the airport is appearing as Miami International Airport.

The airport name changed from Prague Ruzyne Airport to Prague Vaclav Havel on 5 October 2012, named in honour of the last president of Czechoslovakia, and the first president of the new Czech Republic. Havel died in December 2011.
PRAGUE AIRPORT EXPANSION
Prague Vaclav Havel Airport currently has two concrete runways in service and an asphaltic concrete runway used for taxing and parking only. There are also three helipads.

Plans are underway to develop a further runway, south east of the main runway. This will allow greater take-off and landing capabilities in difficult weather conditions, as well as reducing noise levels due to a new runway and air traffic system.
PRAGUE VACLAV HAVEL AIRPORT LOCATION
Prague Vaclav Havel Airport is located 10 km to the north west of the city of Prague and is situated in the Ruzyne district of the city. The location of the airport also offers easy access for the border countries of Germany, Austria, Slovakia and Poland.
PRAGUE AIRPORT FACTS
Airport codes: LKPR/ PRG
Elevation: 1,247ft (380m)
Runways: 2 (06/24 &12/30)
Runway lengths:
06/24 is 3,715m (13,123 ft)
12/30 is 3,250m (10,665 ft)
Private Jet Terminals (FBOs) at Prague Airport: Aviation Service a.s, ABS Jets
Charter a private Jet Prices for PRAGUE AIRPORT
For private jet charter flights to and from Prague Airport call PrivateFly on 020 7100 6960 (24 hours) or contact us.