Salzburg Mozart Airport by Private Jet
Overview summary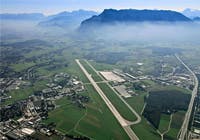 Officially named Wolfgang Amadeus Mozart, Salzburg Airport is situated 2 miles southwest of Salzburg city. Popular in the winter season, Salzburg Airport acts as a gateway to Austria's many ski and winter sports resorts, linking passengers to the largest network in Europe.

With a runway length of 2750m, Salzburg Airport is able handle all types of private aircraft, ranging from light jets like the Cessna Citation Mustang, to large airliners like the Boeing 747-400.

For private jet charter or helicopter flights from Salzburg Mozart Airport call PrivateFly on +44 20 7100 6960 (24 hours).
History | Landing at Salzburg W.A. Mozart Airport | Location | Facts
History
Salzburg Airport's history dates back to the early nineteenth century. In 1926 the German airline Lufthansa launched the Munich to Bad Reichenhall via Salzburg service and later in 1927 the Vienna to Innsbruck via Salzburg route, operated by Austrian Aviation AG.

In 1958 after the Second World War, Salzburg Airport opened a brand new passenger terminal building and control tower. As air travel continued to expand during the eighties and nineties, Salzburg managed to successfully achieve its passenger targets in the year 2000 with 1,265,000 passengers transiting the airport.
Landing at Salzburg W.A. Mozart Airport
Salzburg W.A. Mozart Airport Location
ICAO/IATA: SZG/LOWS
Lat: 47° 47' 36.00" N
Long: 13° 00' 16.00" E
Elevation: 1411ft (430m)
Runway length available: 2750m (9022ft)
Salzburg W.A. Mozart Airport Facts
Salzburg Airport does not have any dedicated Fixed Based Operators on-site, however all private aviation flights are welcomed and handled by 'Salzburg Aviation Services' – the ground services company that provide support for all aircraft landing or departing from Salzburg.

Customs and immigration facilities are also available, catering for flights originating outside of Austria and the European Union.

For a personalised quote or further information please contact us or call +44 20 7100 6960 (24 hours).