Sochi Airport
Overview summary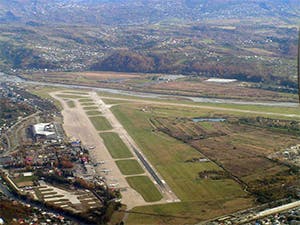 Sochi International Airport is located in Adler District of the Sochi resort city on the coast of the Black sea. Sochi- Adler airport is the eighth busiest airport in Russia and is servingRussia'slargest resort town of Sochi. More than 4 mln tourists a year visit Sochi resort.

Sochi has been chosen as a host town for the 2014 Winter Olympics followed by Sochi F1 Grand Prix in the same year. It is expected that more than 3 mln spectators would attend Sochi 2014 Winter Olympics.

Therefore, a brand new terminal was constructed alongside with new VIP centre. New4000 sq. m. VIP lounge is capable to handle 80 passengers per hour and it has five conference rooms and 56-seat common lounge in the VIP terminal. Sochi airport can simultaneously serve 12 private jets maintaining highest quality of service. Moreover the ground transport to and from aircraft is provided by Mercedes Benz RUS.

For private jet hire to or from Sochi Airport call PrivateFly on 020 7100 6960 (24 hours).
History
Sochi airport history goes back as far as the Second World War, as it was built to protect Russia's Black sea coastline. In late 50's Soviet government built first official passenger terminal.

And between mid-60' until early 90's passenger numbers grew from 900000 to 2.3 mln a year. Since its opening in 1957 till 1990 airport had served more than 60 mln tourists.

Ever since Sochi was announced as a host City for 2014 Winter Olympics airport began massive reconstruction with the investment of $300 million.
Landing at Sochi airport
Airport Facts
Call sign: URSS/AER
Lat: 43*27'00N
Long: 39*57'24E
Elevation: 89 ft
Runway length: 2890 m (9482 ft)